Archos 9
The Windows 7 iPad alternative?
Communications are handled by a built in microphone and a 1.3Mp webcam which seemed to perform particularly poorly in low light. If the external design has a major flaw it's the telescopic two-position stand - nudge the device to the right and it has an alarming habit of folding back up and collapsing, which is worrying given this tablet has an HDD on board. The 8.9in back-lit LED screen has a resolution of 1024 x 600, a matte finish and is a resistive rather than capacitive affair.Despite being resistive using the touch-screen is still a pretty pleasant business and will be immediately familiar to anyone who has ever used an Archos media tablet.

The stand can be adjusted for easy typing
Controls are pretty basic though, so you can forget any fancy multi-touch shenanigans. Scrolling up, down or across pages involves dragging the relevant scroll bar with finger or thumb. Nonetheless we found the UI to be generally slick and responsive and had no complaints about the quality of the display either which is as clear, sharp and colourful as you could wish for. Archos also supply the 9 with a rather puny plastic stylus that lives in a slot around the back but we never found the need to use it.
The Chessware Touch-It virtual keyboard does its job well enough and allows for accurate and speedy typing, has a handy adjustable opacity setting and floats in the vertical plane which is helpful when you have a big keyboard on a small screen and means you seldom have to type blind. But the lack of an auto-launch facility when you tap in a text box is annoying as is the fact that the keyboard graphics don't change when you are in caps mode.
Under the hood the 9 is driven by a 1.1Ghz Intel Atom Z510 processor with 1GB of Ram, while graphics are handled by Intel's GMA 500 US15W chipset. Storage comes courtesy of a 60GB 4,200rpm HDD. There's barely 25GB free out of the box after system requirements and rescue partitioning, with the whole rig is run by Windows 7 Starter Edition. There's an 802.11 b/g Wi-Fi card and a Bluetooth module, but there is no facility for a 3G cellular connection. Even a cursory glance at the 9's specification suggests that it is probably not going to be the fastest running bit of kit around but in everyday use, the operating system is frankly glacial when performing even the most mundane tasks.
As for serious multi-tasking, forget it. Using Windows Explorer to copy some files across to the 9 from a USB stick caused Firefox to launch in horrifyingly slow motion, not that applications launch much faster when the OS isn't otherwise engaged. Once you have launched your applications, things do improve a little and the 9 can, at least, run a selection of applications such as Skype, Firefox, iTunes, Thunderbird or OpenOffice simultaneously.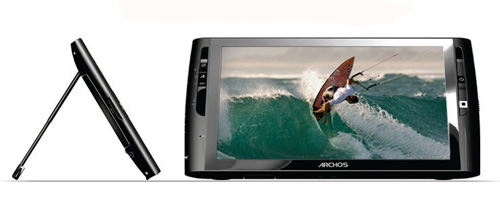 Smooth 1080p movie playback courtesy of Windows Media Player 12
The results of our usual PCMark05 netbook benchtests bore out this mismatch between hardware and operating system with the results being pretty abysmal even when compared to those of other Windows 7 and Atom equipped netbooks such as Samsung's N140.
Sponsored: Minds Mastering Machines - Call for papers now open