Toshiba Regza 55in LED backlit TV
A room with a view, anyone?
Those picture modes include a noticeably more vivid Dynamic picture setting, compared to Standard, a muted Movie and a super-bright Game option. There are more detailed changes possible, but we found we didn't need to tinker that much. One extra benefit to such a big screen is that viewing angle seems wider because there's so much screen real estate to sit in front of.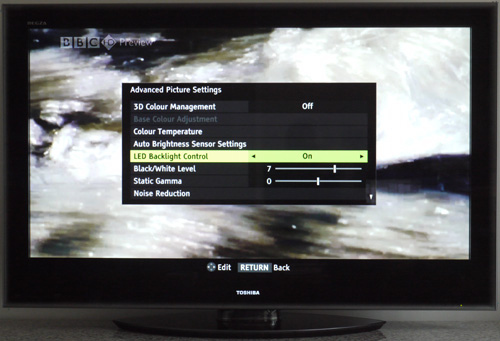 Screen settings are straightforward enough, but the networking features proved troublesome
The network features which allow the TV to stream content from a server or computer were less successful – we spent some time installing software, reading the poorly translated manual and more, but couldn't get this to work. The warning that the software CD was supplied without support didn't inspire confidence either.
This is technology that's not yet as foolproof and accessible as it should be. As for the sound, this was solid and strong with plenty of bass, perhaps because there's so much of the TV to resonate. Overall, the it's sonically better than many flatscreens, but still not outstanding.
Having local dimming means that instead of the uniform backlighting found on regular LCD screens, a series of smaller LED groups illuminate the panel. According to a Toshiba rep, there are only 96 arrays (not the 128 arrays quoted on-line) here and each one can be turned on or off individually.
So if the picture is a dark background with a single bright element at the middle, most of the arrays can be turned off apart from the bright bit. When it works, it delivers deeper black colours and stronger contrast levels than LCD is used to. The Achilles heel, however, can be a halo of light spillage onto the dark areas because the LED arrays don't perfectly match the elements onscreen.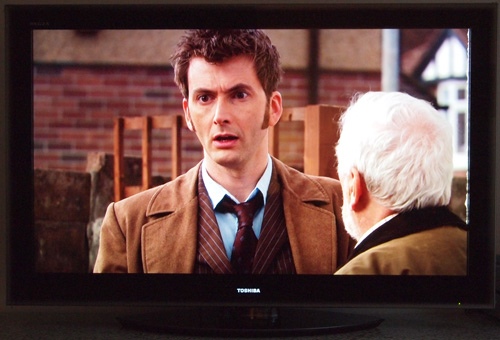 LED backlighting with local dimming delivers superior contrast
Here, impressively, the halo effect is hardly noticeable, so there's very little reason to turn LED backlight off and plenty to have it on. The BBC HD transmission of Heroes was spectacular with the sinister carnival an explosion of colour, but with strong darker parts of the picture. Peter Petrelli's navy paramedic uniform was rich and realistic and the blood, that is a plentiful feature in this show, was shiny, gloopy-looking stuff.
Sponsored: Minds Mastering Machines - Call for papers now open