Netgear ReadyNas NVX Pioneer Edition
Nifty Nas box
Direct comparison to the Iomega IX4-200D, as in the graphs, isn't perfect since the Iomega has four disks while the Netgear is loaded with two 1TB Western Digital RE2-GP drives but, even compared to the other Nas drives we've tested with Vista, the RNDX400E is a significant step above.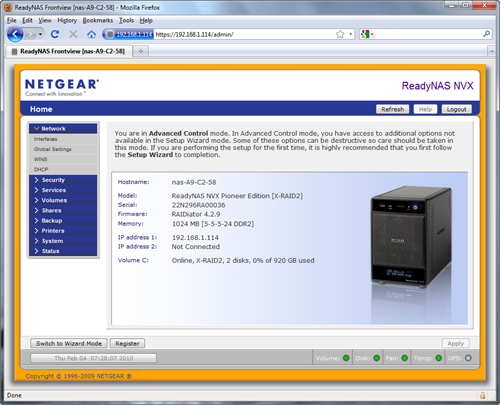 The web interface has a clear structure, but some tasks are poorly implemented
Click for a larger image
FTP speeds were similar to the CIFS transfers, although the FTP service crashed on us to begin with. Restarting the server and enabling shares one by one fixed it, although Netgear says a proper fix will be released soon.
The blazingly fast speeds come at a price, namely high power consumption hovering around the 40W mark. It's also a bit noisier than a four bay Nas usually is - nearly as noisy as a modern PC, ruling it out of the living room. Scheduled on/off (hibernate) is included in the package however, which puts a stop to the noise and brings power draw down to a reasonable 2.8W.
The configuration pages are sensibly laid out, providing all the features you'd expect from a premium Nas like native support for Apple's Time Machine, remote access (done via a utility rather than in the browser), print server and scheduled backup. There's also a solid media server that streamed a 1080p movie to our DLNA receiver and dealt with an Xbox 360 perfectly. Bittorrent is missing by default, but this can be installed as a free add-on from Netgear's ReadyNas web site. Besides the company's own Bittorrent add-on offering, third party contributions include one based on the popular Transmission client.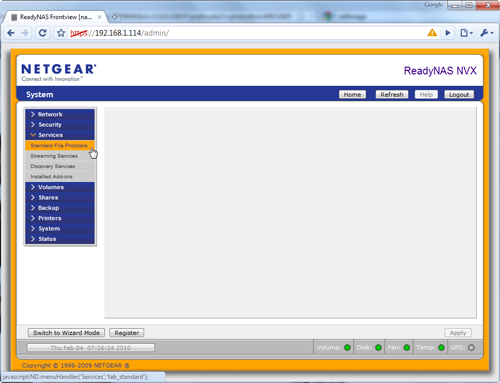 Sometimes pages load in the browser, sometimes they don't
Indeed, the ReadyNas community does seem quite active with quite a few interesting add-ons like Wordpress, Ram and Ethernet monitoring and MySQL, which rival the plugins available from the likes of Qnap and Synology. However, the device's Frontview interface could do with some work as it doesn't always load the configuration pages properly – an issue that isn't exclusive to this particular ReadyNas model either.
Sponsored: Minds Mastering Machines - Call for papers now open