New airlock mini-sub for US Navy SEAL 'operations'
May not be compatible with nuclear Stingray motherships
Will it be able to dock with the nuclear-powered underwater SEAL motherships?
Submergence Group themselves are fairly tight-lipped about their S301's performance, but they do specify that it can carry two pilots and 6 swimmers - or underwater robots, inflatable boats etc. The SEALs also state that in their opinion the S301 is a "lock out" boat capable of unloading the six passengers in a single airlock cycle. They also believe that it can cruise at better than 5 knots and travel at least 10 nautical miles on a single li-ion battery charge.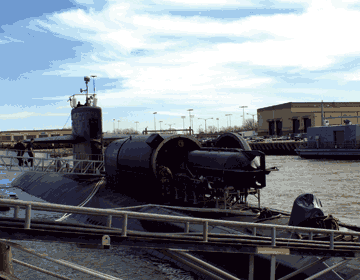 SDV partially inserted into mothership airlock hangar.
One of the most critical factors affecting the design of the SDVs and then ASDS was the fact that the short-ranging battery minisubs are carried into range of their objectives aboard full-size US Navy nuclear submarines. With the SDV, a large "Dry Deck Shelter" airlock hangar is fitted to the sub's hull to hold the minisub and allow its crew of SEALs to board.
The ASDS was too large to fit into a cramped hangar, and was intended to dock with the sub directly: it was this which proved its downfall, as it tended to suffer serious damage if the carrying sub went at all fast.
Whether the S301 is intended to operate from a mothership is unclear. It seems to be significantly bigger than an SDV, so dry-hangar operations are probably out: on the other hand there's no indication of its being able to mate with a full-size sub's escape hatch.
It seems likely that the S301 will move over long distances by other means, probably using a surface support ship. The US Navy's SSGN underwater special-ops motherships - Ohio class ICBM subs stripped of their nukes following arms-reduction treaties, and refitted with conventional cruise missiles plus accommodation for a force of frogman-commandos - will probably have to rub along with SDVs for a while yet. ®
Bootnote
*Mundanely the Mark 9 seems to have been intended for torpedoing ships at anchor or in harbour from a distance, rather than James Bond style minisub-v-minisub underwater dogfighting.
Sponsored: Minds Mastering Machines - Call for papers now open