Samsung preps Wacko Jacko movie hard drive
Film pre-loaded on HDD
Wacko Jacko fans, Samsung has the external hard drive for you.
In just two weeks' time, the South Korean giant will release a 500GB 2.5in drive - the S2 Portable - pre-loaded with the Jackson film This is it. Gold coloured, the drive's top is styled with the star's sillhouette.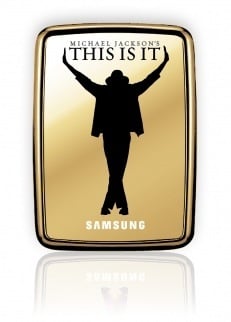 Samsung's Jacko Drive: yes, this is it
The drive, which will go on sale across Europe, is being released alongside the movie's appearance on all the more usual formats.
Samsung described the drive as a special edition product, but you may not need to snap it up quickly to avoid missing out. Last summer, Samsung released a Terminator Salvation-themed 500GB S2, and you can still pick these up.
The manufacturer didn't say how much the Jackson S2 will cost. The standard version will set you back between £65 and £70. ®
COMMENTS
quote
"Wacko Jacko fans, Samsung has the external hard drive for you."
What a fantastic line. Thankyou.
Hmmm....
No cashing in going on or anything then, is there?
I bet he's moonwalking in his grave.
Not to impugn the brilliance of MJ, but...
...what is the brand synergy between a now-dead mentally and physically ravaged genius, whose health had been appalling for decades, and hard drives? Will the drive perform erratically, then be unable to go to sleep, before conking out without having fulfilled the most recent contract its services were acquired under?
RIP MJ, composer par excellence.