Fujifilm Finepix Real 3D W1
First 3D compact digital camera
If the Finepix Real 3D W1 was being reviewed for its 2D performance, it wouldn't get very far. Noise levels are high, even at low ISO settings, and focusing in macro mode is a little soft (although the AF system is quick). Night Tripod only gives a maximum slow shutter speed of three seconds. In fact, it's best to consider the 2D mode as an optional extra, because this camera's raison d'être is its 3D performance, and here, the Finepix Real 3D W1 delivers the goods.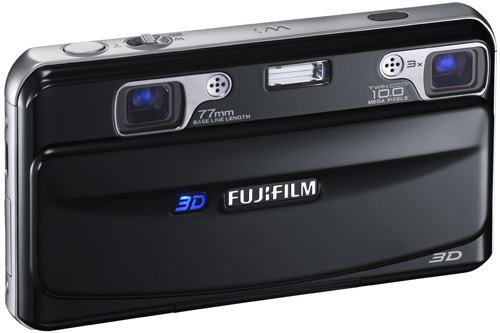 Interesting concept, but not without its limitations
Taking 3D shots has never been easier and the results are highly impressive, with amazing depth and detail, and none of the noise that bedevils the camera's 2D images. In order for you to have some idea of the camera's 3D performance, we've uploaded some of our anaglyph 3D images. If you have a pair a anaglyph glasses, you can view the results for yourself. We also watched our 3D movies on the camera's LCD screen and they looked good too.
Verdict
When you think of what you get for your money (two cameras, 2D/3D shooting options, still and movie recording, plus an autostereoscopic display), then the Finepix Real 3D W1 isn't bad value. Throw in the fact that it also makes it very easy to create 3D images and you have a product that should appeal to fans of stereoscopic photography. The Finepix Real 3D W1 has a few quirks - and Fujifilm should seriously consider supplying 3D creative software and a cheap pair of anaglyph glasses with any future 3D camera – but if you're interested in 3D imaging, you certainly should take a close look at this camera. ®

Fujifilm Finepix Real 3D W1
A surprisingly compact device – when you consider what's packed into it – that makes it easy to create 3D images and movies.