Fujifilm Finepix Real 3D W1
First 3D compact digital camera
In terms of handling, the Finepix Real 3D W1 has a few operating quirks, but you soon get used to them. Power on and off is done with the sliding lens cover. It takes around five seconds to go from power-on to first shot. There are six rocker controls on the back – three on each side of the LCD screen. You use the bottom left to select 2D or 3D shooting mode, and the top left one, to select camera or movie mode.vYou use the same button to select the operating mode from a menu.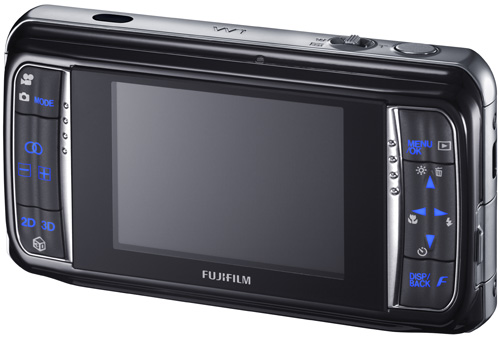 Besides capturing stereoscopic images, it can operate as two independent cameras
You can opt for Auto, Scene Position – which includes 13 options, such as landscape and portrait – Program AE, Aperture Priority (there is no shutter priority) and Manual. The latter can be used adjust the aperture and shutter speed settings, although note, there are only three aperture settings for wide (F3.7 / F5 / F8) and tele (F4.2 / F5.6 / F9).
There are also two additional modes which you won't find on any other camera. ADV. 2D takes advantage of the Finepix Real 3D W's twin camera facility and can be used to simultaneously take two shots, with left and right frames having different colours (such as full colour for the left frame and black and white for right), focal lengths (for example, wide angle and tele) or sensitivity (such as ISO 400 and ISO 1600). They are a bit of a gimmick, but fun to use.
Note, that you only see the image from the left lens when using the ADV. 2D mode. ADV 3D lets you manually create your own 3D images by taking two consecutive shots (known as a cha-cha shot). To use this feature, you take the first shot (the recorded image is superimposed over the view in the LCD screen for guidance), reposition the camera, and then take the second shot. You can also create 3D images using time lapse.
A menu button on the right hand button column is used for adjusting parameters such as face detection, continuous shooting and power management, with most shooting parameters (such as ISO, white balance and image quality) changed via the F (function) menu button. A multi-function rocker can be used to quickly adjust flash, macro and self timer settings.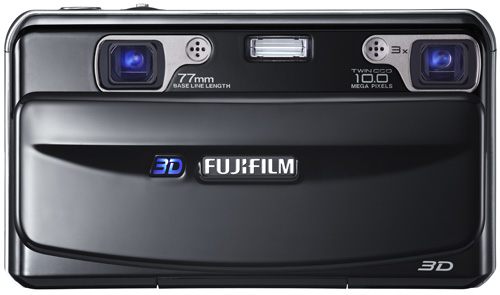 Camera obscura: watch your fingers when taking snaps
The Finepix Real 3D W1 offers an auto parallax correction system, but you can also manually adjust the parallax during playback using a large parallax correction button on the left. Any adjustments can be saved. Although the menu system and operating modes sound a bit complicated, in practice, it doesn't take long to get to grips with this camera. Our biggest operating gripe is the ease at which your fingers can obscure the lenses during shooting, and it's little wonder that the instruction manual goes to great pains to warn users about this.
Sponsored: Minds Mastering Machines - Call for papers now open