Fujifilm Finepix Real 3D W1
First 3D compact digital camera
The Finepix Real 3D W1 shoots stills and movies in both 2D and 3D. For 2D stills, it uses JPEG files, and for 3D images, the .MPO (multi-picture object) file format. The latter combines two JPEG images to create a stereo pair. There is no RAW option. 3D movies are shot in what Fujifilm calls 3D-AVI, while 2D footage is in AVI Motion JPEG format. Both movie formats offer VGA and QVGA resolution and audio is in stereo.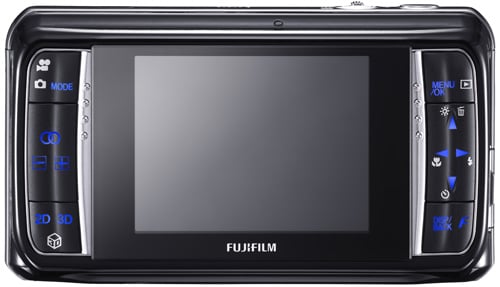 The LCD is capable of showing 3D images without additional viewing aids
The back of the camera is dominated by a 2.8in LCD screen composed of 230,000 dots. This is no ordinary LCD, because it can display 3D images and movies without users having to wear special 3D viewing glasses. It can also operate as a standard 2D display.
Talking of displays, how do you watch your 3D images and movies? Well, according to Fujifilm, there are three ways; using the camera's LCD screen, buying a Fujifilm V1 3D viewing frame (£399) or sending your 3D shots off to Fujifilm for printing. The 3D printing service takes up to 20 days to deliver your 3D (lenticular) prints and costs £3.99 for a 6 x 4 print or £4.29 for a 7 x 5. Oh, and add a fiver for delivery.
Nvidia also markets a £120 3D Vision Kit, which includes a pair of LCD shutter glasses and 3D Vision Photo Viewer software, which can be used to create 3D images from .MPO files. But Fujifilm has missed a trick by not including software for creating 3D images from .MPO files, which can be viewed on a standard PC screen. The camera's supplied software – for PC and Mac – can only be used to extract JPEGs from .MPO files.
At the very least, Fujifilm could have included information about a handy piece of freeware called Stereo Photo Maker, which can convert .MPO files into various 3D viewing formats, for viewing on a PC. Better still, Fujifilm could have taken out a commercial licence and supplied it with the camera.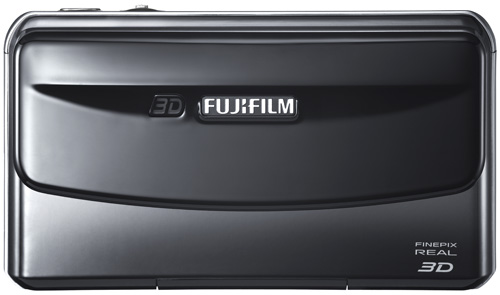 Bigger than your average compact, but it does house two cameras
Alas, Stereo Photo Maker is for Windows only, but there's also a version for creating 3D movies, Stereo Movie Maker, although we had problems making it work on our PC. However, we used Stereo Photo Maker to create 3D anaglyph images from the .MPO files, viewing them on an old pair of anaglyph glasses that were lying around the office.