Original URL: http://www.theregister.co.uk/2010/02/04/ipad_camera_apple_patent/
Does Apple patent claim show iPad with built-in camera?
Cupertino drops heavy clues
Posted in Hardware, 4th February 2010 14:37 GMT
Free whitepaper – Hands on with Hyper-V 3.0 and virtual machine movement
A strong hint that Apple will indeed include a camera in subsequent versions of the super-hyped iPad was revealed in an "image capturing device" patent application submitted by the company late last month, The Register has learned.
USPTO patent application 20100020222 [1] strongly alludes to the inclusion of a camera - not just in its popular iPhone - but also in a device "such as a laptop, tablet, or handheld computer."
The patent claim - 'Image Capturing Device with Touch Screen for Adjusting Camera Settings' - was submitted by Jeremy Jones, Nikhil Bhogal and Ralph Brunner on behalf of Cupertino-based Apple on 5 June last year and published on 28 January 2010.
It details how the firm's "portable, handheld" devices operate a built-in camera.
Diagrams accompanying Apple's US patent application mainly show drawings of the iPhone as an example of the methods used to manage camera settings in the Jobsian gizmo.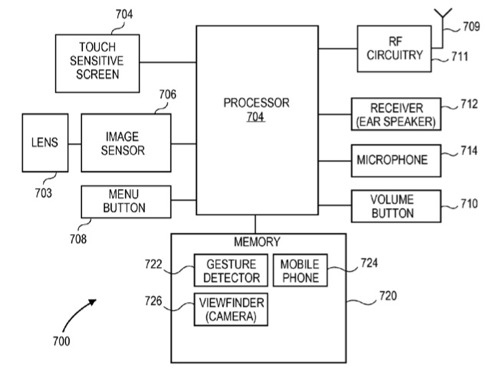 Apple example of a 'portable handheld multifunction device' in which the invention could be implemented [2]
Indeed, the claim makes no mention of the iPad by name. However, several times Apple reiterates that the invention "embodies" what it describes as "generally related to image capturing electronic devices, having a touch sensitive screen for controlling camera functions and settings."
In other words that scope extends beyond the iPhone and applies to Apple's range of portable devices, which now of course includes the puffed up but not yet tested iPad.
Furthermore, Apple added the following belts and braces disclaimer to its patent claim:
"The invention is not limited to the specific embodiments described above. There are numerous other variations to different aspects of the invention described above, which in the interest of conciseness have not been provided in detail. Accordingly, other embodiments are within the scope of the claims."
At launch, many grumbled that Apple's latest webby toy lacked a built-in camera.
That may look set to change with future editions of the iPad, that is if we've correctly interpreted the semantics in Apple's patent claim.
Meanwhile, clues that the iPad will indeed, one day, come loaded with a camera surfaced earlier this week when Mission:Repair blog [3] claimed it had been shipped some parts used to repair the device.
They received a metal internal iPad frame with what appeared to be a "spot" for a camera, which, when tested with a standard camera unit taken from a Unibody MacBook, it slotted neatly into the gap.
"The camera slips in the frame, the lens fits in the hole, the LED that indicates that the camera is on, fits, and the ambient light sensor hole is also correct. It appears that the plans to have camera in the iPad is a reality," said the Apple repair shop.
Apple for its part is remaining characteristically quiet. El Reg asked the firm if it was in the process of building a camera into subsequent versions of the iPad, the first generation of which will hit US retail in March this year.
"I'm afraid we don't comment on rumour or speculation," said a company spokeswoman. ®