Medion E54009 touch monitor
Go touchscreen without buying a new PC
The E54009 requires a firmer touch than many of the dedicated touchscreen PCs we have tried. This is not a criticism, merely an observation. Some touchscreens are so sensitive that they react unexpectedly when your fingers merely hover near the surface of the screen. Hence, the firm response of the Medion device is not such a bad thing, especially on a computer that might be used by all the family.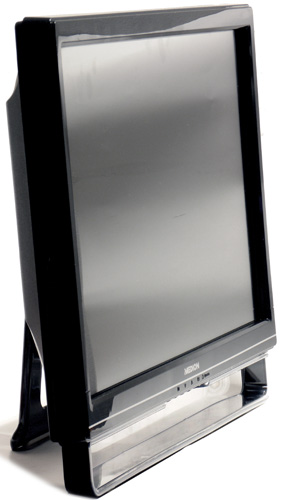 Image control buttons are partially hidden under the bottom bezel
One of the drawbacks of touchscreen operation is that you can't see on-screen objects directly under your fingers, while tiny objects such as checkboxes and scrollbars are extremely difficult to latch on to with your stubby fingertips. To assist with this, Medion provides a plastic stylus for precision work. The stylus is housed for convenient safe-keeping in a slot inside the bezel at the bottom right-hand corner of the display.
Not so conveniently, we found it extremely difficult to pull the little bugger out of its slot, despite its textured top edge to give you some grip. Possibly there was a problem with the unit we tested, but withdrawing the stylus was a rubber-glove challenge on each occasion.
Any concerns about the non-digital video connection were forgotten in use. The screen image is bright, clear and uniform with good touch location accuracy. It supports a native resolution of 1920 x 1080 pixels at 60Hz with a response time of 5ms, and is rated with a typical contrast ratio of 1000:1 and brightness of 300cd/m2. The viewing angle is rated between 160 and 170 degrees, although the practical viewing angle is narrower, of course.
Since touchscreen monitors need to be closer to you than conventional displays (operating a touchscreen computer at full arm's length is an ergonomic nightmare) the viewing angle is all the more important, especially on a home computer, which might be operated by more than one person at a time. That said, the E54009 offers plenty of good vision for side-by-side users.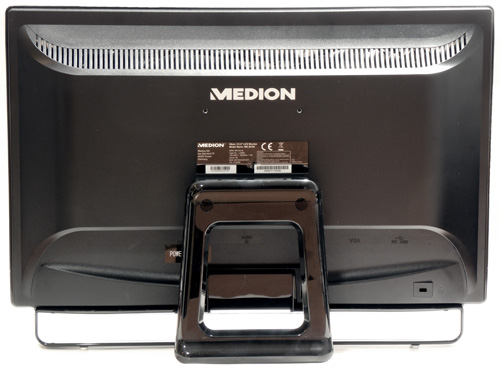 Fairly lightweight yet sturdy, with a simple but effective tilt stand
The image is adjusted using an on-screen display menu controlled by buttons under the bottom bezel, their position requiring you to press them upwards, which feels a bit strange. You can switch between Cool, Normal, Warm and user-defined RGB colour temperatures, and apply fine-tuning to the VGA signal to improve image position and sharpness.
Sponsored: Minds Mastering Machines - Call for papers now open