You can also toggle between a series of built-in Opticolor modes that are supposed to suit different applications including games, video, photos of natural landscapes, text and something called ECO which seems to disable your contrast and brightness settings.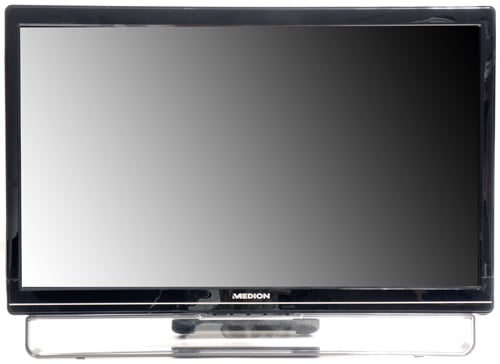 Good image quality and easy to configure
Thankfully, you can circumvent the display menus with direct adjustments for contrast, brightness and audio volume, plus an all-important Auto Adjust. These all work fine but Medion could have made things easier by labelling the buttons more clearly. The labels that do appear are tiny, difficult to distinguish on the shiny black bezel, and tricky to associate with upside-down buttons that you can feel by groping but cannot actually see.
Verdict
Specification comparisons with other 1920 x 1080 displays do not show the E54009 in a good light. For the same price, you could buy a 22in device with DVI, multiple HDMI inputs and a built-in TV tuner. Take away all that, as Medion has, and you would save £100. However, what you get for that extra cash is an instant touchscreen conversion for any desktop or notebook PC with a VGA port and running Windows 7 Home Premium; installation itself is a no-brainer. The image quality is very good, allowing plenty of scope for personal adjustment, and the pull-out stylus for precision touch operation is a thoughtful extra. Moreover, a digital input would have been better still, hence our conservative overall rating. ®
More Touchscreen Gear Reviews...

Acer
T230H

PsiXpda
Pocket Computer

Packard Bell
oneTwo M

Acer Aspire
5738PG Touch

Medion Akoya Multi-Touch Monitor E54009
No digital inputs and no TV tuner, but it's a surprisingly effective way of enabling Windows 7 touchscreen features on your PC.
COMMENTS
Me too...
People in work/home situations have been literally punched for walking over and saying "OOOOOooooooh what's THAT?" and stabbing a greasy digit into my screen.
Actually INVITING people to do this would probably send me over the edge unless these screens have a) a really good oleophobic coating or b) wipers.
Obsolete ? Already !!
What is this new trend among monitor manu's to make their screens 16:9 ? I hate the loss of screen height. Are the manu's unaware that a few of us actually use our computers for work and require screen height.
Why is this thing so low spec ? No DVi, no HDMI, only 60hz refresh. It's almost like buying one of the earliest low spec LCDs screen from years ago and slapping touchscreen sensors on it. Even the Acer T230Hbmidh has better spec for the same price and thats made by Acer !!
Wake me up when there's a reasonably priced 16:10 LCD touchscreen of 24" or 26"
Touch screen
Who is it that wants greasy fingerprints all over their screen? (Apart from my work colleagues)
Do these same people have fingerprints over their TV and feel disappointed that their local cinema doesn't have a screen similarly besmirched? Might be Ok on a mobile, or for some made-for-idiots public information point, but for most computers is just unneccesary and diminishes ones viewing pleasure.
This is the same Medion...
That makes monitors that self destruct after a year?
That do not sell ANY spare parts?
Make Laptops with PSU boards so badly designed thet catch fire when internal PCB layers short?
Whos build quality is worse than Fisher Price
That one yes?
Newbie reviewers are BAD
Dear reviewer,
I see that tablets and touchscreens are new and amazing to you. However, tablets and pen input screens are really old hat. Light pens have existed since the days of green and black screens. You neglect key points to those of us who have lived with interactive screen inputs for many years, mostly via Wacom, handheld PDAs and various graphics tablet products: Pressure sensitivity, levels of pressure, and pixel or sub pixel accuracy.
This is not a brave new world, this has been around for decades. Please inform your reviews with those decades of popular features and concerns.