Medion E54009 touch monitor
Go touchscreen without buying a new PC
Review Love or scoff at the idea, Windows 7's touchscreen features need to be experienced first-hand, and jabbing away at a demo machine at PC World doesn't really count. The problem is that buying in to touchscreen technology for the home is an expensive experiment: you would normally need to invest in a brand new touchscreen notebook or all-in-one touchscreen desktop computer to really get to grips with it.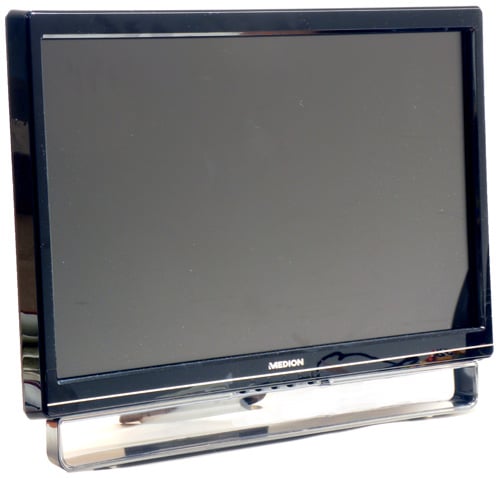 PC touch up job: Medion's Akoya E54009
German manufacturer Medion's answer is to upgrade just the display, not the computer. The voluminously named Medion Akoya Multi-Touch Monitor E54009 is quite simply an LCD display that you can plug into whatever PC you already own; add Windows 7 Home Premium and you have full touchscreen functionality straight away. Beyond this, no additional drivers or special hardware setup are required.
Despite its size – this is a 21.5in diagonal monitor approximately 7cm thick – the E54009 is surprisingly lightweight, making installation less troublesome than expected. The display leans backwards on a prop stand arrangement with rubber feet to keep the unit gripped to your desktop. Don't bemoan the lack of tilt and swivel: an immobile display is what you need for touchscreen use.
The sleek black lines of the bezel are unfortunately disrupted by a cheap-looking stand raiser underneath. Despite appearances in the photo shown here, there is no gap inside the raiser frame: it is filled with a pane of transparent plastic, presumably to ensure rigidity. If you have keyboard, mouse and other USB cables running across your desk, you must route these around either side of the monitor.
Unlike other modern displays, the E54009 offers only one video input: an analogue VGA mini D-Sub port. Those with digital video cards and DVI cables will need an adapter. Also provided is a single USB port for connecting to your PC to enable Windows 7 to control the touchscreen features on the unit. There is no USB hub built into the monitor. You can, however, connect your PC's audio-out to the E54009 in order to make use of its pair of built-in 1W speakers.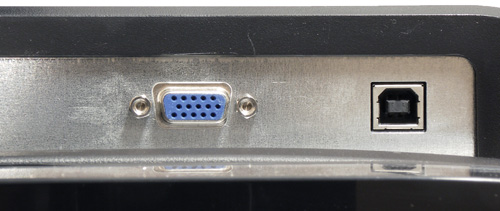 VGA only with USB to handle the touchscreen features
All cables – VGA, USB and stereo audio with 3.5mm jacks – are provided in the box. Also provided, of course, is the necessary power supply cable, curiously referred to in the heavily Germanic user manual as a 'netzcable'. To get started, connect the VGA and USB cables and switch everything on. As soon as Windows 7 has booted, you can use its touchscreen functions immediately, including flick, rotate, scroll and zoom. Setup really is that simple.
Sponsored: Minds Mastering Machines - Call for papers now open