Firm grows multi-touch see-through 'skin' for gadgets
Make anything flat or curved touch-sensitive
Are you ready for an iPad that's curved to fit around your forearm? Or an LCD TV that's as interactive as an iPhone?
Displax, an off-shoot of Portuguese internet services company Edigma, reckons it can make these devices possible. It has developed what it claimed is the first multi-touch tech that can be applied to any material, flat or curved, opaque or transparent.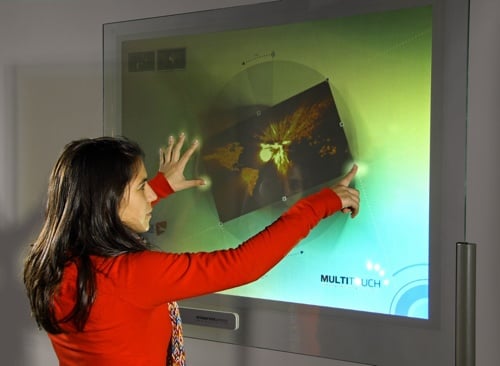 Displax's multi-touch skin: doesn't have to be stuck to something that's flat...
The sensor is even sufficiently sensitive, the company claimed, to be able to detect not only when you press it but also when you blow on it, opening up "new possibilities for future applications", Displax said. The mind boggles.
The system is straightforward enough. It's based on capacitive technology - the one used in the better-quality touchscreen devices - and uses a grid of tiny wires embedded into a transparent sheet that can be attached to the object you want to turn into a multi-touch machine. The sheet itself comes from a company called VisualPlanet.
Displax said its controller connected to a 50in sheet can track 16 fingers, though it expects the technology to be able to detect more digits in due course.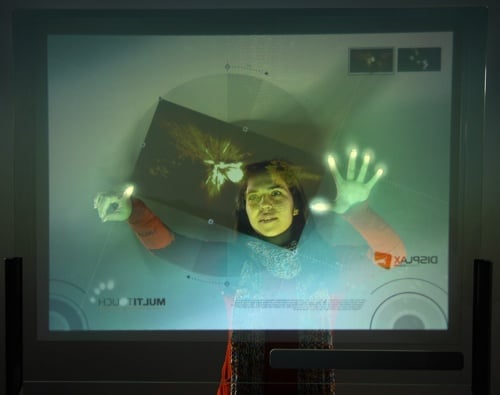 ...or opaque
Displax is pitching the technology primarily at displays from 7in to 3m in the diagonal - it's an easy way to turn a standard LCD panel into a multi-touch device, it said - but it sees the system being applicable to a huge number of objects, from ordinary tables to large tellies, and shopping centre information boards and posts.
Right now, Displax is nearing the end of the technology's development with a view to bring it to market in Q3. ®
COMMENTS
I was going to suggest the same thing
Unless all the previous posters are deluded by the concept of social interaction.
16 fingers?
For full Norfolk compatibility...
Why assume the screen is vertical?
This sounds like an excellent thing for a tabletop/worksurface. Especially since the capacitive screen should (I hope) be able to ignore pint glasses, condensation, beer mats etc. while still allowing you to tap on the menu under the touch surface or request information to be displayed in the middle of the table (3D holograms may take a little longer!)
Imagine an architects drawing board, tilted at an angle, but with either a large LCD, or a video projector behind it shining onto slightly frosted glass. Use it for laying out magazines and web pages, sorting photos, pulling up maps etc.
Grease spots, of course if this wasn't a capacitive screen, you could just wear white cotton gloves while working ... but there are ways around that with conductors in the gloves ...
... but for any situation where you don't need a display behind the touch, then finger grease doesn't matter ... e.g. projecting a keyboard or navigation bar beneath an image so you can type in your destination in a kiosk, or required house details in an estate agents ... or tap away at your sleeve keyboard from proper old-skool sci-fi usage (or in a warehouse/restaurant or other place where you might have bare hands (capacitive touchscreen, remember?) and want to be able to capture data/selections without pulling out a pad.
16 fingers
Thinking wildly out of the box, I assume this is so that more than one person can interact on the screen...
Already out there?!
Think you guys should take a look at the Visual Planet release (http://www.visualplanet.biz/news/display.php?id=37) - certainly the vip interactive touch technology. This technology has been around for years so not really big news