HP bids to boost sales with 0% financing (again)
Enticing CIOs to spend money they don't have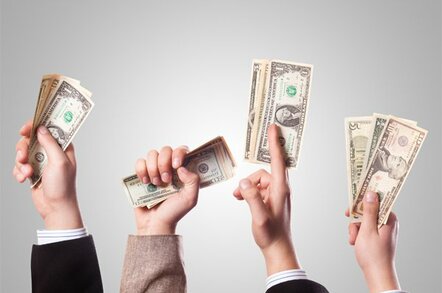 More than IBM or Oracle, IT supplier Hewlett-Packard is dependent on volume sales to make its top and bottom lines. And with the economy improving but still not in great shape, HP has reanimated some zero per cent financing deals from early last year in the hopes of helping it get a solid start to 2010 in North America.
Presumably, European customers will get similarly generous financing at some point, as was the case last year when the economic meltdown hit HP - and indeed most IT suppliers - in the gut. HP wants businesses - particularly the small and medium businesses that are its bread and butter - to come out of 2009 swinging, not flailing like someone caught in the undertow.
HP's Financial Services arm is offering two zero per cent financing deals in the United States and Canada. The first deal is a zero per cent lease on various IT gear with a $1 purchase option at the end of the lease. Basically, HP is allowing SMB customers to buy gear now, divide the cost by twelve, and pay for it over the course of a year (plus one dollar) while using HP's money for free.
HP pays a lot lower interest rates than most SMB shops, so this is not as much lost interest as it might sound like. It is better to ink a top-line deal worth perhaps a few tens of thousands of dollars now and recognize the revenue over the course of a year than to have no sales at all to talk about.
Anyway, in the US, this twelve-month deal can be used for transactions ranging from $1,500 to $150,000, and in Canada, customers have to spend between $5,000 and $150,000 (that's in looneys, not greenbacks). In the United States, customers buying laptops, desktops, workstations, monitors, thin clients, and point of sale equipment have to buy HP's so-called Smart Buy preconfigured systems, which already include discounts. (Customers in Canada do not have to stick to Smart Buy configurations).
The deal can also be used to finance printers, printer supplies, and ProCurve networking products. The twelve-month deal is also available for customers buying ProLiant rack, tower, and blade servers (which are based on Intel and Advanced Micro Devices x64 processors) as well as on selected Integrity servers (which are based on Intel's Itanium chips).
The Integrity machines that can be acquired under the financing deal are the entry rx2600 and rx3600 entry machines, the rx6600 midrange machines, and the BL860 and BL870 blade servers, which slide in the BladeSystem c3000 and c7000 chassis. Various StorageWorks products can also be financed, including entry Modular Smart Array, midrange Enterprise Virtual Array, LeftHand Networks NAS, and various all-in-one storage systems.
The second zero per cent financing deal coming out of HP today is a 36-month lease with a fair market value acquisition option at the end of the lease. All other terms of the deal are exactly the same as the twelve-month deal.
Both financing deals are available to commercial customers as well as to educational institutions and local, state, and national governments in North America. The deals run out on April 30, which is when HP ends its second fiscal quarter.
So when do customers in EMEA get such generous financing terms? If history repeats itself, sometime in March. In January 2009, HP announced nearly the same deal in the US and Canada with an April expiration date as it launched today in those countries. European customers were given a 30-month, zero per cent financing deal on ProLiant servers, BladeSystem chassis, and StorageWorks kit, with the deal expiring at the end of April. HP also offered European customers special server bundles with 31 or 32 per cent discounts.
Last year, HP was not the only one waving around zero per cent financing deals on its systems. Dell, IBM, and NEC announced deals at the end of 2008 and into 2009. And until there is a solid recovery in the economy, you can expect many more reanimated financing deals in 2010. ®
Sponsored: Minds Mastering Machines - Call for papers now open