Mozilla's Firefox syncer Weaves out of beta
Separate machines, same settings
Mozilla has released the first official non-beta version of Weave, the open source "sync everything, everywhere" add-on for Firefox.
The release is the culmination of the Mozilla Labs' Weave project's web-wide test flight, the last leg of which began with the synchronization utility's first beta release of version 1.0 last November.
The add-on grabs a wealth of browser information, including your choices of browsing history, bookmarks, saved passwords, open tabs, and contents of Firefox's love-it-or-hate-it drop-down Awesome Bar, then encrypts it and pumps it up into the cloud Mozilla's servers, where you - or your designated compatriots - can access it all automatically from other Weave-equipped devices: laptops, desktops, and compatible phones.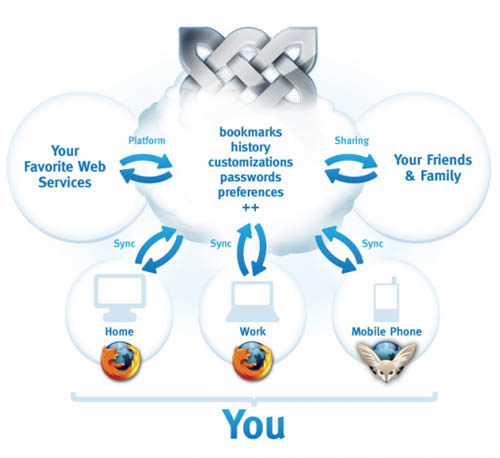 Mozilla's Weave slips your browsing life into the cloud
Syncing of bookmarks and history items is done in chunks, a scheme that Mozilla claims improves performance. However, according to Mozilla's release notes, your first sync can "take anywhere from a few minutes to a few hours," depending upon the power of your computer, the speed of your connection and - of course - the amount of info you're syncing.
In addition, your first sync will deal with your most recent 1,000 history items, with others being synced in subsequent sessions. In addition, the new version will sync only your 25 most-recent tabs. Tabs from other computers can found in the rationally named Tabs From Other Computers choice in the History menu. Also, favicons have not yet been invited to the syncing party.
According to Mozilla, future versions of Weave will include support for browser add-on and search plug-in syncing, and "ultimately everything that makes your Firefox and Web experience personal."
To begin your journey to that ultimate goal, you can download Weave 1.0 here. Do take a look at those release notes before you sync away, though - there are a number of installation niggles for different configurations. ®
Sponsored: Minds Mastering Machines - Call for papers now open