Samsung ST550
Two-screen camera
Review Samsung's ST550 is a rather innovative point-and-shoot compact camera as it features both a front and back LCD. The idea is to make self shots and timed group pics easier to compose. With the ST550, standing with arm outstretched and looking silly – just to end up with snapshot of just half your head in front of the Tour Eiffel – will become a thing of the past.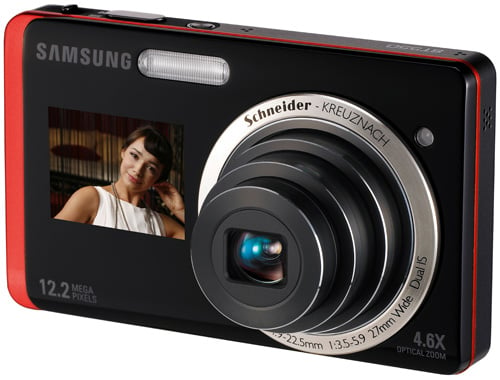 The narcissists' choice: Samsung's ST550
The ST550 is a slim 12Mp compact with a 4.6x optical zoom 4.9-22.5mm f-3.5/5.9 lens equivalent to 27-124mm on a 35mm camera. The LCD on the back is a 3.5in touchscreen LCD and a 1.5in front LCD to take perfectly framed self-portraits. It also sports an 80-3200 ISO range and a 1280 x 720 HD video recording at 30fps. Designed for gadget lovers and budding narcissists, the ST550 will set you back around £260.
With the ST550, Samsung leads the way not only in originality but also in technology. The large rear LCD screen has an impressive resolution of 1,152k dots and uses a very clever, if not perfectly functional, touchscreen technology. The Smart Gesture User Interface and motion-detection system let you access all the camera settings directly on the screen through a series of interactive finger taps, hand gestures and camera tilts.
If you want to scroll through your photos you can just tilt the camera one way or the other or if you want to delete a picture you just have to draw an X on it with your finger. Should you not want to use the built-in orientation sensor that allows for hand gesture recognition you can still operate the camera by tapping on-screen buttons.
Also very handy is the One Touch Auto Focus feature that allows you to focus on any part of the scene by just tapping on the desired area of the image you see on the screen. Once you select the focal point with your finger, you don't even have to press the shutter, as the camera will automatically take the picture after 2 seconds.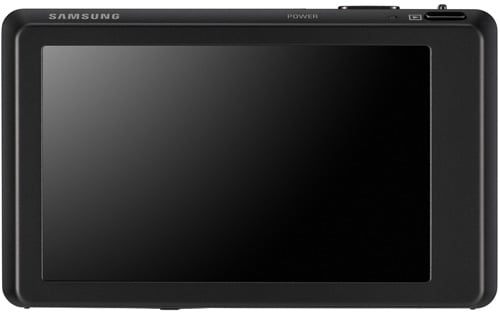 A great size for composition, but the touchscreen can be a fiddle
By relying on to the touchscreen technology borrowed from its latest mobile phones, Samsung can do away with rear buttons and make space for the very large size of the main screen. Unfortunately you can only activate the touchscreen with bare hands meaning that shooting in cold weather is a painful experience.
COMMENTS
MicroSD
For many people, they will never unplug the memory card and they will use the USB cable to transfer to their PC. Though I did see one user slightly flumoxxed by microSD at a Kodak instant print booth.
Though I wonder how many shots there will be of kids howling in fear at the evil clown picture :)
Beware !
Have the cheaper ST500 and the touch screen cracked after being in my (front) pants pocket on a car journey. The LCD was fine but the touch screen seems to be a layer on top of it and it was completely cracked after being pressured against my keys in my pocket. I've never had that problem with any other touch screen device I've owned. Less then a month old but of course the warranty didn't cover it, despite a pocket camera not surviving it first trip in my pocket.
MicroSD? Could be worse
..at least people are likely to use those/have readers, unlike bloody Memory Stick. My phone, the flash card in my DS, and a few other things use MicroSD, so I have readers kicking about.
Obviously, I'd prefer plain old SD in a camera, though.
I think it's mostly historical ...
... in the "bad" old days, memory chips were expensive ... so if you'd bought a massive 256Mb memory card for hundreds of pounds, it was a real pain if your next camera used a different format card.
I remember the thrill of buying a 512Mb SD card from Jessops and getting the price down to £99 (wow!) but of course a 2Mp digital camera could get a fair few pics on 512Mb.
Now that the price of a 4Gb card is £10 or less, it's a lot less of an issue ...
... of course my laptop has an SD card slot (as does my DVD player at home) so I'd need to carry the microSD->SD adapter with me to make viewing/copying the images easy, but that's hardly much of a hassle, especially since one of my current SD card using devices is actually using a microSD card in the adapter as it was cheaper to buy it that way than a full size SD card.
I didn't read the full article, so I don't know, but if the front display works in video mode, then it makes the camera excellent for recording band rehearsals, solo music works etc. as you can look up and see what's in the camera's view :-)
I know I'm rare among the geeks on here (grin!)
... but I have a girlfriend!
And sometimes it's nice to get a picture of the two of you together (behave back there!) in front of the Eiffel Tower, or at a restaurant without worrying that that dodgy geezer you've handed the camera to is about to do a runner with your photographic memories (a la National Lampoon's European Vacation!)
Also, for those of you who don't have a girlfriend handy, sometimes you do want to take a good picture of yourself, better than the webcam in your netbook permits, and it's much easier when you can see what you're doing/what the final picture will look like ... and if it does a nice "3..2..1" countdown in big friendly digits, so much the better!
It's a pity the photographic quality seems not to be fantastic, otherwise this camera would be at the top of my wishlist to travel with me as a backup to the D-SLR or just as a camera to have in the side pocket of my daypack/computer bag for day to day snapping (better than most cameraphones anyway!)
Paris because that's where the Eiffel Tower is (and she has spent a fair time in front of the camera too!)