Asus G51J
In yer face stereoscopic 3D gaming, for a price
In order to communicate with the laptop, an infrared USB dongle has to be attached. With a range of 15ft, this dongle includes a small scroll wheel that allows the 3D depth setting to be adjusted on-the-fly. The laptop comes preloaded with all the necessary 3D software, but you won't start experiencing 3D until a compatible application or game is launched.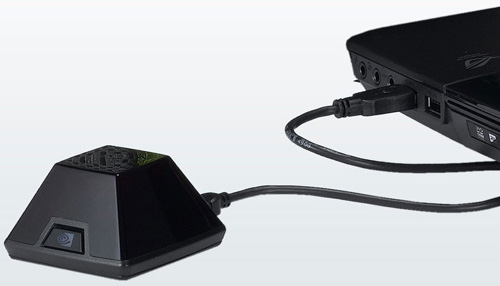 The USB dongle links up with the glasses with infrared
One problem with the polarised 3D method on Acer's laptop is that the resolution gets split in two, with each eye seeing alternate horizontal lines. This results in a loss of detail and causes particular problems when trying to read small text. On the G51J 3D, however, each eye sees all 1,366 lines of the laptop's display.
As soon as a suitable program is fired up the glasses take on a dimmed effect, caused by each eyepiece rapidly switching on and off. This process is timed to coincide with the display's refresh rate, meaning each eye sees alternate frames. On standard laptop displays, which usually run at 60Hz, this would mean the refresh rate effectively halving to 30fps. By using a 120Hz display, the G51J 3D is able to provide up to 60fps for each eye when running in 3D mode.
Naturally, content designed specifically for 3D works best. It came as no surprise that the Nvdia test screen provided a real knock-your-socks-off 3D experience, with the revolving Nvidia logo really leaping out from the screen.
The quality of 3D gaming depends on the title you're playing. Nvidia's trawled through over 350 games and rated them as to their 3D performance: Excellent, Good, Fair and Not Recommended. When firing up a game, a screen pops up explaining what settings, if any, should be altered in order to get the game running at its best. A full list of compatible titles can be found on Nvidia's 3D Vision website.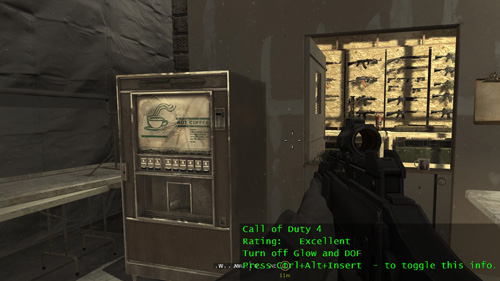 Run a game in 3D and you'll be told what settings to adjust
Unlike with the Acer, which had viewing angles restricted due to the polarised glasses, you don't need to worry about your positioning in relation to the display. However, the shuttering nature of the glasses means everything appears a lot dimmer. Although not a problem with most games, those with darker scenes can cause problems.
Sponsored: Minds Mastering Machines - Call for papers now open