Asus G51J
In yer face stereoscopic 3D gaming, for a price
Video outputs are provided in the form of HDMI and VGA, while external devices can be connected using the four USB ports. There's also an eSata port and 54mm ExpressCard slot, while Bluetooth and Gigabit Ethernet are both included.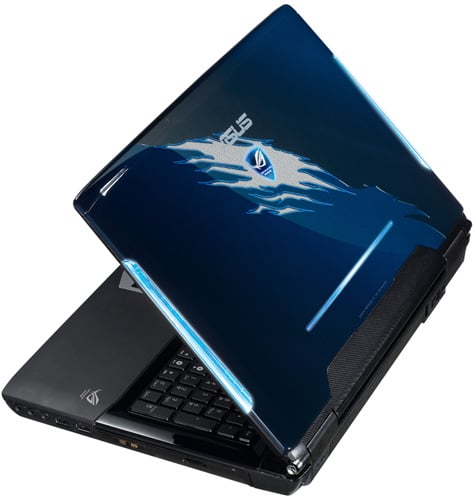 Annoying lights adorn the lid
Asus has gone for an Intel WiFi Link 1000 card to provide wireless support. This can handle 802.11n but, unlike the 5100 and 5300 models, it's a single band card and therefore only operates at 2.4GHz – if you've a dual-band router the laptop won't be able to talk to it using the less-cluttered 5GHz spectrum.
A pair of Altec Lansing speakers is located just below the display, but they're not nearly as loud as we'd like on a gaming laptop. The underside of the chassis also has what looks like a grille for a sub-woofer but, given its extremely tinny audio playback, this model clearly doesn't actually come with a sub.
A Blu-ray drive is slotted into the right side of the chassis, but with the 15.6in screen's relatively low native resolution of 1366 x 768 you won't be able to enjoy 1080p movies without hooking up an external HD TV.
Asus hasn't held back with storage on the G51J 3D and ships it with no less than two 500GB hard drives whizzing along at 7,200rpm. However, before you get ideas of boosting performance, it's best we point out there's no RAID controller. This means you're stuck with the 1TB of storage, which seems a bit excessive on a laptop. Asus might have been better off dropping one of these drives and shaving some money off the price tag.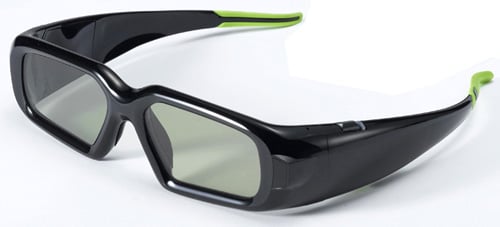 Best avoid wearing the 3D glasses in public
So, back to the 3D side of things. Given they house active shutters, it's no surprise Nvidia's 3D Vision glasses are bulkier than the polarised pair shipped with the Acer 5738DZG. Their chunky nature also means the glasses will happily fit over most prescription specs. A power button is found on the top of the glasses, while a mini USB port lets you charge the battery – Nvidia reckons 40 hours is possible from a single charge.
Sponsored: Minds Mastering Machines - Call for papers now open