Toshiba looks ahead, sees a 14TB disk
Sifting through the bit pattern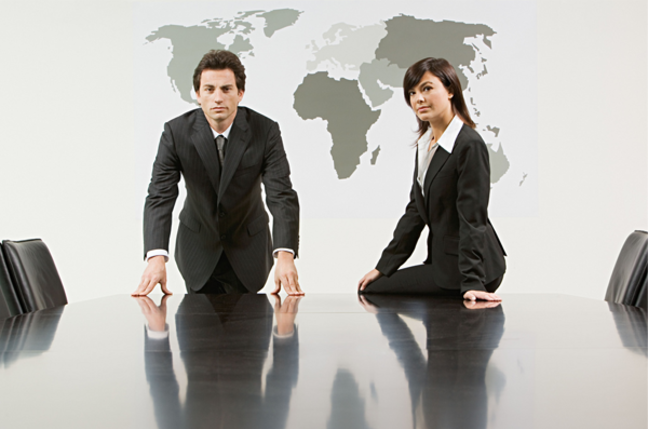 Comment Earlier this month Toshiba researchers presented a couple of papers concerning bit-patterned media (BPM) and associated head technologies at a Magnetism and Magnetic Materials Intermag conference in Washington DC. They have been working towards an areal density of 5Tbit/sq in for hard disk drives and this was by way of a progress report.
One paper with the somewhat lengthy title of "Fabrication of Ridge-and Groove Servo Pattern Consisting Self-Assembled Dots for High-Density Bit Pattern Media" discussed how bit-patterned media (BPM) composed of 1 bit size magnetic dots on a recording surface was made in a self-assembly process. This achieved a 2.5Tbit/sq in density and the dots were laid out in tracks along with servo signal patterns.
A second paper discussed advanced read/write head technology and was called "MR Ratio and RA Design of CCP-GMR Film for Over 2Tb/in2 Read Sensors."
Toshiba has extended its Nano Contact Magneto-Resistive (NCMR) head technology to enable ultra-high sensitivity with a nano magnetic domain wall. The paper described research simulation results and key specifications of CCP-GMR (Current Confined Path - Giant Magneto-Resistance) and the resistance range for 2-to-5 Tbit/sq in NCMR heads.
Toshiba's MK6465GSX 2.5-inch hard disk drive has an areal density of 528.5Gbit/sq in meaning 320GB per platter and 640GB in the 2-platter product. The BPM paper talks about 2.5Tbit/sq in, roughly five times denser. If it were applied to Toshiba's current 2.5-inch drive it would give us 1.6TB/platter and a 3.2TB product. Extrapolate that to the 3.5-inch format and the numbers are even larger.
For example, Seagate's Barracuda XT offers 2TB with four 500GB platters and a 347Gbit/sq in areal density, seven times less than the Toshiba researcher's 2.5Tbit/sq in. If the Barracuda used the Toshiba researcher's BPM then the resulting capacity would be 14TB. Toshiba has indicated it wants to enter the 3.5-inch drive market.
Such areal density improvement delights won't be appearing in products for several years. The hard disk drive industry might achieve a doubling of capacity every three years say, and that would deliver a 14TB 3.5-inch drive in 2018. You could plug in a different capacity doubling period to this algorithm and get a different year. Seagate reckons we have another two or three perpendicular magnetic recording (PMR) media generations ahead of us before we need to move to new technologies such as BPM though. ®
Sponsored: RAID: End of an era?