Nokia N97 Mini
Size matters?
Returning to Ovi Maps, Nokia dropped a bit of a bombshell on the satnav industry the other day by announcing that it would be making its satnav service free for all. Currently, only ten Nokia smartphones, including the N97 Mini, can download the full program from here and use it for nowt. Apparently, the original N97 will get full Ovi maps support in March.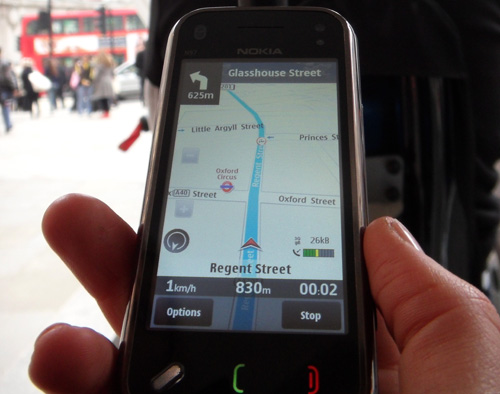 On the road with the new, free Ovi Maps satnav
There are 2D and 3D map options available, as well as satellite photo and terrain views, a dashboard with speed and distance info and you can choose from a variety of voices and languages – for some reason the 'surfer dude' voice tickled us. Ovi Maps carries some basic traffic updates and addresses of local businesses, but there's also a wide range of short and snappy descriptions from the free Lonely Planet and Michelin Guides.
It may not be as full-featured as the best dedicated satnavs from TomTom or Wayfinder, but it's certainly good enough, with plenty of potential to make you think twice about shelling out for a dedicated system. After all, it can be used off-line so you don't get data charges if using it abroad and European customers will get maps for the whole of Europe. Aptly, the territory maps supplied vary depending on where you live.
The web browser is functional, but would have benefited greatly from a more intuitive zoom function. To quick zoom you can double tap the screen, but anything more subtle involves accessing the menu then controlling an onscreen zoom bar. Web pages are generally rendered well though, and it supports Flash video.
The decent-sized screen offers 640 x 360 pixels and over 16 million colours, so it's nice and crisp for watching movies, although DivX or XviD videos are unsupported. Nokia's ever-expanding Ovi service has video downloads, though the line-up isn't exactly must-see just yet.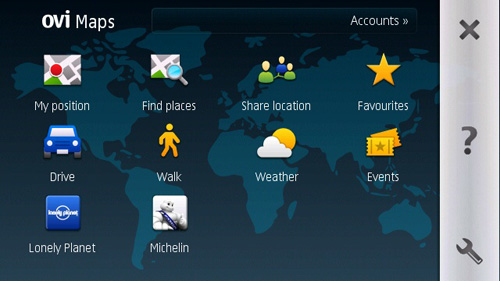 Ovi Maps options
The music player is straightforward with its functional interface and support for MP3, WMA and all the usual AAC flavours. What impresses though is the sound. The graphic equaliser boasts all of five presets, which looks disappointing until you realise you can tweak each of them using a proper eight-band graphic equaliser and save the settings, so you get just the sound you want.