Nokia N97 Mini
Size matters?
The N97 Mini runs on the Symbian S60 5th Edition operating system with its associated UI and we really can't bring ourselves to love it. Along with the screen issues, it isn't particularly intuitive to use, with some actions requiring a single press and others a double, with no apparent logic.

More pocketable than its former guise
The UI features a busy widget-filled homepage. The blocky arrangement of different-sized shortcut and app widgets appears less tidy than the uniform but endlessly customisable arrangement of the iPhone or Android handsets. Nice to see a Facebook app that announces your status and updates there, though it's a bit hungry on the RAM – the system runs a little quicker without it. Other handy widget apps include AccuWeather, YouTube, CNN Video, World Traveller, ESPN football news and Elle magazine.
We had no trouble with call quality on the N97 Mini – the speaker proved loud enough even next to a busy road and the tone is pleasantly full, with no trace of raspy tinniness. Conveniently, if a call comes through while you have the keyboard open, it's automatically diverted to the loudspeaker, but switches to the ear speaker when you snap it shut.
Most email accounts require just address and password to configure and it supports Microsoft Exchange too. With the messaging widget, the latest incoming mail can be displayed on your homepage.
The camera and flash are the same as the N97's, though the mini has lost the lens cover. It starts up fairly nippily in less than three seconds, automatically switching the screen to landscape mode. Picture quality is pretty good, with colours well reproduced and images generally sharp in good light, though the quality soon tails off in lesser light conditions. There's autofocus and a heap of options available in the menu, including contrast, colour tone, white balance, light sensitivity settings,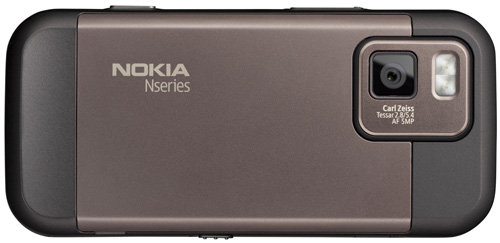 No lens cover but still a good camera for a phone
Other features include macro, landscape and sports options, a multi-shot mode that can take anything up to 18 pics in quick succession, a timer, and geo-tagging using the on-board A-GPS supported by Nokia's Ovi Maps, and an on-board compass. In short, it's a solidly put together camera package. Video drops the quality level a tad but it records in 640 x 480-pixel resolution at 30fps, or widescreen shots at 640 x 352 pixels resolution which is certainly fit for YouTube use.