Apple granted multi-tap detecting tablet patent
How to do multi-touch circa 2005
Apple was yesterday granted a patent giving it ownership of a method by which tablet devices can detect how close users' fingers and thumbs are.
Dubbed 'Proximity Detector for Tablets', US patent number 7,653,883 describes how sensors may be used to look for approaching digits and pop up appropriate user interface elements accordingly. When fingers are withdrawn, the tablet can "disable and remove GUI element from display".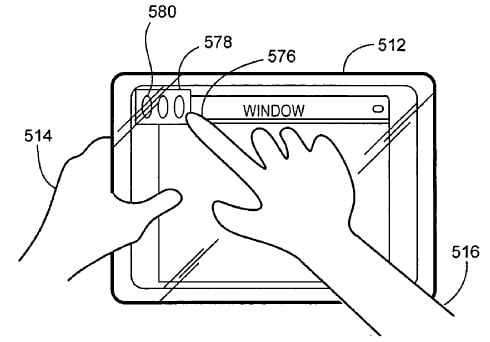 Apple's tablet patent: detecting different digits
The patent - spotted by Patently Apple - was originally requested in 2005, two years before the release of the first iPhone and its multi-touch display. Proximity detection was clearly how Apple was considering a touchscreen device could be adapted to pick up multiple taps simultaneously.

As such - and despite the monumental coincidence of the granting of this tablet-related patent - it's probably talking speculation a step too far to suggest this is how tonight's unveiling is going to work.
Multi-touch screens are now commonplace, after all.
Apple filed rather a lot of touchscreen-related patents back in 2005, including this one for a virtual clickwheel which has yet to see light of day in a real, shipping product. The UI will look familiar from the pics above. Will it become more familiar tonight? ®
COMMENTS
Patents - there has to be a better way
The whole question of patents if fraught with difficulties.
Seen from both sides.
Neither entirely satisfactory.
PS: Hope someone comes up with a better more equitable way perhaps? : )
That's as may be, but
This patent is for something else.
I wonder how it knows what is is you are going to want to tap though?
Sick of it
Patents like this are wrong, Apple did not invent multi-tap/multi-touch they should not be awarded a patent for it.