German retailer Tweets iPad details
If only it had...
German electronics retail giant Media Markt has Twittered the price of the iPad - and said when the tablet will launch in Europe. Or has it?
According to the post, we should expect to pay €499 (£434) if you buy the iPad through a mobile phone network, or €899 (£781) on its own, unsubsidised.
The device will go on sale on 1 March.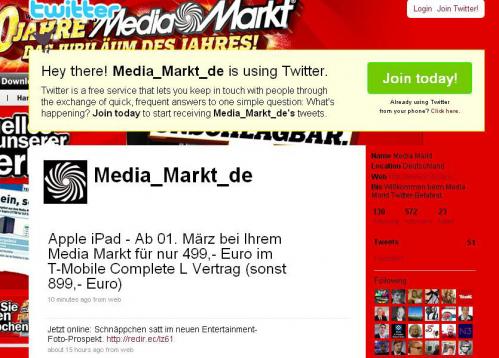 That Tweet in full, as it was...
Now, we should point out that the Tweet has since been withdrawn, it seems. It was re-Tweeted rather a lot, though, and some bright spark took a screengrab just in case.
It's also an odd mistake for a company of Media Markt's stature to make, and not the sort of thing you'd expect to slip through regular public relations channels. But then company Twitter accounts tend to be maintained by individuals, and it's not hard to imagine one such employee, on discovering these details, letting his or her enthusiasm getting the better of them.
Or it could be a wind-up.
The screengrabs show the account as 'Media_Markt_de'. A check on Twitter reveals this an account that hasn't posted anything. 'MediaMarkt_de' hasn't seen much activity, either, and neither has 'MediaMarkt'.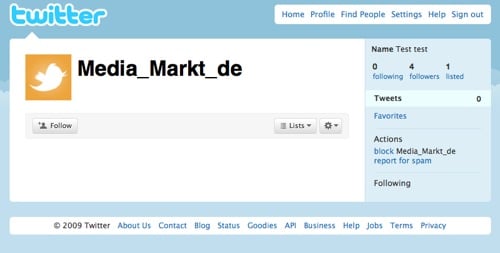 ...and how it is now
In short, we're going to file this one in our list of Twitter hoaxes right alongside 'Johnny Depp killed in car crash'. ®
COMMENTS
Who cares?
Who really gives a f**k about what appears on twitter? The sooner this web 2.0 bollocks dies a death the better. Remember there are over 5.5 billion people on earth who don't give a sh*t about sh*tter, sorry twitter.
RE: Who cares?
The United States estimate that the population (as of 27th Jan 2010) is 6,798,900,000.
That means that there are about 6,789,899,000 people who don't give a shit about twitter (even that might be a little generous!)
I'd love to agree but...
Apple hardware lasts a long time and it works!
Every PC I have owned is made of random parts from different manufacturers and without fail they have suffered some kind of hardware fault that has rendered them junk.
Buying a Mac is like buying a Ferrarri - it costs a lot but it's worth it.
Buying a PC is like making your own Ferrarri using parts you've ordered off the net. It might be cheaper but essentially it's a pile of shit (especially if you've installed Winblows)
And One More Thing...
New from Apple: the iMortgage, where we take ownership of your soul in exchange for these lovely slabs of aluminium, chrome and plastic. Only 600 simple payments and the products are yours (until we decide to release the updated model of whatever you own nine months down the road, at which point we offer a generous 0% discount on trade-ins)
Paris, because even she would need a mortgage to buy new Apple hardware
Definitely iPad
And it will be called the iPad. iSlate sounds too much like 'isolate' and that's bad marketing karma for an inclusive networked device.