Belkin Home Base
Printers, hard drives etc on your WLAN
Belkin's software consists of an set-up wizard and Control Center, an app you'll need to install on any networked machine to which you want to grant access to the shared resources. Set-up is straightforward and gets your Home Base up and runing on the network in minutes.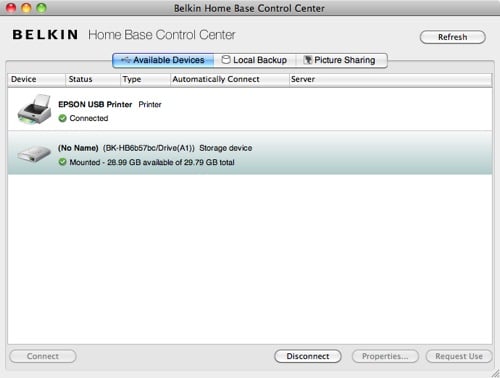 Shared: printer and USB stick
In fact, in some ways, it's all too easy. Well, if you're a techie, at least. Case in point: we wanted to share our Epson D88 printer. We assumed, from long experience, this would not be a matter of setting up the Home Base, then plugging the printer into it. We anticipated extra driver installations, configuration tweaking, setting up a new printer - separate from the D88 as a directly connected peripheral - and so forth.
But no. Had we simply plugged the D88 into the Home Base and printed something from the first of our test machines - a MacBook Air and an Acer Aspire 1810TZ - we'd have been laughing. Second time round, we just left it alone, and it worked.
Belkin's software is savvy enough to match the printer connected to the Home Base up to what you already have installed. Print to a USB printer and, even if it's now linked over the WLAN, it will print out as before. Not as quickly, perhaps, but not so much so that it's likely to be a problem.
Unhook the printer from the Home Base and plug it directly into your computer, and the next print job works as smoothly as it ever did.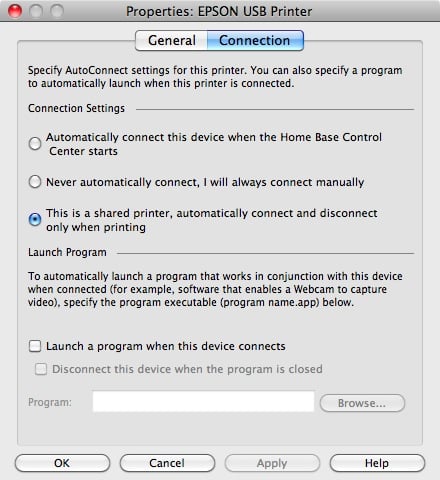 Auto-release printers so other users can work with them
Home Base exclusively links a resource to the computer that is currently making use of that resource, but the software can be set - indeed, it's the default - to release printers when a job is complete, allowing other machines to use it afterward.
Sponsored: Learn how to transform your data into a strategic asset for your business by using the cloud to accelerate innovation with NetApp