iSlate leaves fingerprints all over the net
It's a big iPhone
Apple's iSlate has been spotted online by Flurry Analytics, sporting an iPhone OS and consumerist tendencies.
More than 50 instances of what Flurry calls "Apple's rumoured tablet device" have turned up in the company's records gleaned from application downloads, indicating that the device to be announced on Wednesday is iPhone compatible and that Cupertino-based testers are more interested in games than word processors.
Flurry gathers its data using an engine developers drop into their applications in exchange for a share of the data. That engine reports back to Flurry when the applications are executed, sharing data on the hardware on which its been installed as well as the frequency with which it's run and other information of interest to developers.
On the company blog Flurry reports that 50 instances of tablet devices have been spotted downloading more than 200 applications, with the emphasis on games and media consumption rather than business apps: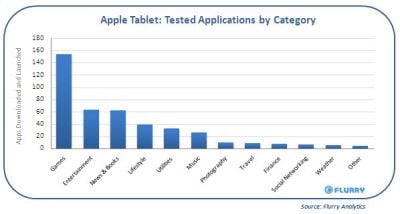 Flurry won't say exactly how it knew that the devices weren't new iPhone versions, other than the fact that when their engine asks for the hardware model "iPhone" is not the response, and that the OS version reported (3.2) is not used on any iPhone. Flurry also reports having seen OS version 4 running on iPhones both in Cupertino and elsewhere.
Those factors, coupled with the fact that all the reports can be traced, by IP address, to Apple's Cupertino campus, are enough to convince Flurry and sound pretty compelling to us.
Apparently the Flurry engine doesn't ask for screen resolution, which is a shame but understandable for an iPhone application. So all we can really say is that Apple's tablet will run iPhone applications and make use of iTunes, which shouldn't come as any surprise.
Either that, or Apple is going out of its way to confuse us. ®
COMMENTS
iPhone apps
Great -- it's not as if some drivers using TwatNav look out of the windcreen much - now they'll be completely blocking the view with an iSlate and ToMTom app.
At least when they turn up half an hour after they should have all they need to say is 'I's late'
Gone for coat
Yeah, man, like who cares, damn it all!
Bah, I don't care, I'm not a geek at all. I hate gadgets, I hate technology, I'm a luddite, all Mac fanboi's should be flogged!
I'm a whinging whiney pom, I always look on the worst side of everything, I always find problems rather than solutions. Who cares about this stupid iSlate Tablet crap, it's crap just like the stupid iPhone I can't afford that my mates would shove in my face if I had any, but I don't, because I just bitch bitch bitch.
I'm so tired of all this hype over just another stupid silly Apple product. I'm a linux closet geek, I like my stuff to break all the time, requiring me to hack away at it using my happy hacker keyboard via my serial interface just to make life more difficult, so I can whinge and moan a bit more.
Apple is just a big bunch of marketing crap, Steve Jobs is a big mouth, their products are just overhyped and overpriced, which is why millions of fanboi idiots flock like fools to the shiny temple of cool.
I hate myself, I hate gadgets, I'm a British geek, I hate success, I hate people who succeed, I hope this iSlate crap fails.
I want my gadgets to be DIFFICULT dammit, I want to open them up and poke them and make them do things they shouldn't, but that damn Apple company won't let me - how dare they, I paid for it, It's MINE dammit. I want to jailbreak my damn toaster, just so I can see if it can do Waffles, I'm an inventor luddite whinging pommie mac hating hamster shunting fool.
Damn it all!
... ad nauseum...
Yep
Blacklisted in noscript.
Er...
Surely the poster would be quite capable of seeing the title, realising its about some Apple iTablet thing, then going directly to the comments section and commenting as he/she did without reading it? The caring part comes from caring about NOT have yet another article, he surely doesn't care about the iBrick itself. Hence the post. Seems fair enough to me.
Although he may still be a troll, your argument that he cares enough to comment is fallacious.
Bizarre conclusion to draw...
"50 instances of tablet devices have been spotted downloading more than 200 applications, with the emphasis on games and media consumption rather than business apps"
Might it be more the case that software including this "Flurry" crap is more likely to be a game / media app than anything else? A more "serious" company probably wouldn't entertain the idea of spying on their users...