HP TouchSmart 600
Touchscreen iMac wannabee
Tucked just behind the right-hand bezel is a slot-loading combo CD/DVD writer that is also capable of playing Blu-ray discs. For some reason, it consistently took up to a minute to recognise Blu-ray media, during which time the HP MediaSmart DVD program displayed a misleading 'No disc loaded in the drive' message. Wait long enough, however, and the disc mounted and played without problem.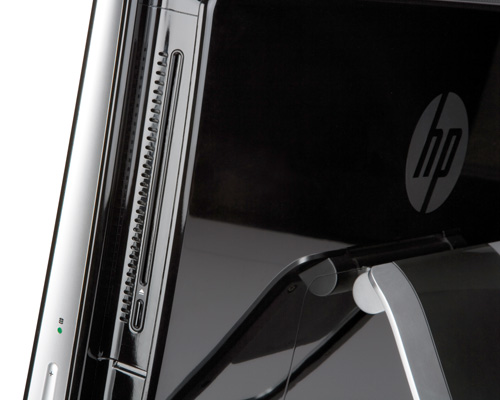 Recessed behind the screen bezel, the slot-loading optical drive can be a little difficult to locate.
A small concern with the location of the drive is that you are forced to load discs by feel. Since the slot is hidden behind the front bezel rather than in it, you cannot actually see it without having to peek all the way around the back of the computer. Blindly guiding a disc into the narrow slot invariably involved a bit of scraping.
The left-hand edge of the unit bears an 'ambient light' button that switches on a full-width strip lamp under the bottom bezel. Being 'ambient', it is no replacement for a desk lamp but is bright enough to let you see the key caps on your keyboard in a darkened room. You can even use an on-screen utility to change its colour, mimicking those pink and blue undercar lighting effects so beloved of Need For Speed Underground fans.
A pair of USB 2.0 ports, plus 3.5mm audio in and headphone out sockets are also provided on the left-hand edge. Removing a large plastic cover section at the back reveals a good collection of additional interfacing. These include three more USB 2.0 ports, a single HDMI port, a digital audio out socket, a stereo speaker socket, and 'in' ports for composite video/audio, S-Video and TV stereo audio. The TouchSmart 600 houses an analogue and DVB-T TV tuner, so you can also connect a TV aerial directly.
For cabled networking, a Gigabit Ethernet port is provided. Otherwise, the product supports wireless connectivity with 802.11b/g/n and Bluetooth 2.0. Both the keyboard and mouse are Bluetooth peripherals, both designed in the same black plastic as the main unit.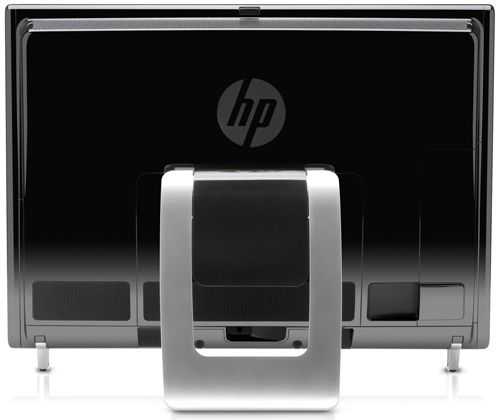 The sturdy lean-back prop adjusts screen tilt between 5 and 40 degrees
The mouse is a fairly average two-button, laser-accurate scrollwheel device but the keyboard is ultra-thin with notebook-like action. Not everyone likes these keyboards because they favour soft typing over violent jabbing, but we actually prefer them. HP's keyboard for the TouchSmart 600 is a particularly good example, too.
Sponsored: Minds Mastering Machines - Call for papers now open