Conceptronic Grab'n'Go
Retro rocket-styled streamer, anyone?
There's a BitTorrent client built into it too – although you can only download Torrent files onto a USB storage device that is plugged into the Media Player itself. The USB storage device also has to be formatted using Windows NTFS or the Linux EXT2 format – there's no support for the Mac's HFS format, nor is there a Mac version of the Media Server software. In short, Mac users need not apply.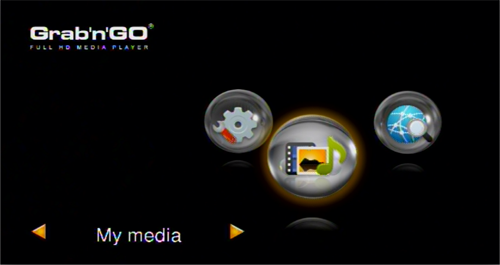 Main menu navigation options
The third option is the My Media icon, which leads to a sub-menu containing a further three icons that allow you to browse music, video and photo files. Before getting to grips with the Media Server software on our PC we decided to plug in a USB memory stick containing a batch of test files.
The FullHD Media Player had no problem playing any of the files on the memory stick, including MP3, WMA and AAC audio, and DivX, AVI and – to our great relief –some high-def H.264 video files that looked splendid with the player's 1080p output.
But while the hardware is up to scratch, the software side of things is less accomplished. The browser interface is pretty basic – it simply lists the files in any folder in alphabetical order (or reverse alphabetical order if you prefer) but you can't browse by genre or artist unless you take the time to create 'artist' and 'genre' folders and organize the content of the folders yourself.
Admittedly, this navigation weakness is shared by many rival media players but that doesn't make it any less irritating when you've got dozens of gigabytes of music, photos and videos that you want to browse through.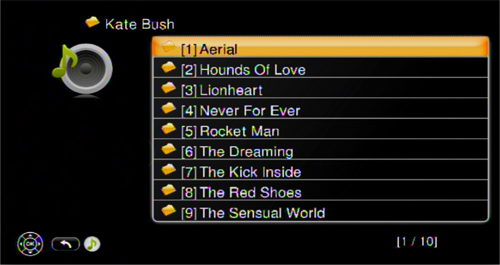 AAC music files are not supported by the supplied media server
Our next step was to use Conceptronic's Media Server software to stream some files from our laptop PC, and we were somewhat surprised to see that the Media Server doesn't support the same range of file formats as the Media Player hardware. Indeed, it failed to stream our 16GB library of AAC music.