Big Blue stalking STEC?
Rumours drive up SSD maker's share price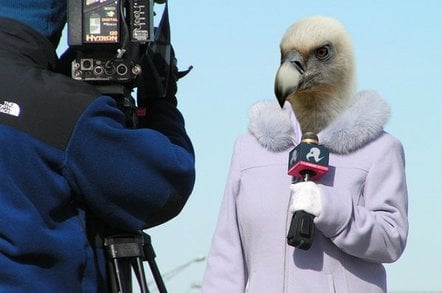 Comment: The share price of EMC's favoured SSD supplier, STEC has grown almost 60 per cent since the beginning of the year, yet law suits are amassing and its competitive position has weakened. The rumour is that IBM interest in buying STEC is pushing its share price up.
In September last year STEC's share price peaked at $41.84. It was riding high and its management had made some significant share sales. Then it announced results that were solid enough, but less than stellar, and said EMC had effectively over-ordered product and STEC wouldn't ship as much product as it had previously said.
The shares tanked, dropping to $21.32 by the end of October and then precipitously to $13.13 in early November. This reversal in investor sentiment was fuelled by a strengthening realisation that STEC's monopoly in Fibre Channel interface SSDs, the ones EMC favoured, would not last forever and that server-located SSDs with PCIe interfaces were going to become popular. This was helped by energetic marketing and PR from Fusion-io, a PCIe interface SSD supplier.
Strengthening this concern was the entry of Seagate into the enterprise SSD space, the news that Micron and Intel had intentions in that market, the entry of SandForce and Pliant with strong controller offerings, and thoughts that Hitachi GST could produce a Fibre Channel interface SSD with Intel's help. SAS interface SSDs were also thought to be possible substitutes for Fibre Channel ones, especially with a 6Gbit/s SAS interface.
So STEC wasn't coining dollars as fast it had hoped, its effective monopoly faced sustained assault, and EMC wasn't taking as much product, yet its directors had sold shares as they rose to their peak. Shareholders, especially ones who had bought as STEC was ramping up to its $41.84 peak were furious. Law firms sniffed out class action possibilities - seven or more of these are now underway, claiming STEC directors effectively duped shareholders.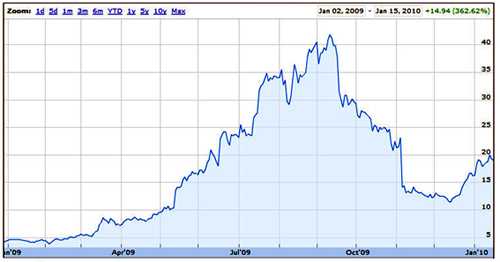 STEC's recent share price history from Google Finance.
Shares reached a low point of $11.44 on December 7, 73 per cent down on their peak. Since then nothing in STC's strategic situation has changed. No new design wins have been announced, although Fujitsu plumped for STEC on December 1 just before the bottoming out of the share price. No new product has been revealed, and no resumption of OEM order shipment growth rates have been announced; yet the shares have risen to the $19.58 mark, a 71 per cent rise. It seems a bit more substantial than a mere bounce after reaching the bottom.
The speculation and rumour is that IBM is interested in buying STEC. The logic seems pretty obvious with IBM getting control of the leading enterprise flash drive manufacturer, whose NAND product it is using in its SAN Volume Controller and disk drive arrays, and against a background of increasing SSD use in servers.
The big blue beast at Armonk has not spoken so this is all speculation, perhaps partly driven by burnt shareholders wistfully looking for a way to recoup their losses. Without the IBM interest the shares would appear to be over-valued, but I'm no investment analyst. ®
Sponsored: Minds Mastering Machines - Call for papers now open