Speedo Aquabeat
The life aquatic
File support includes DRM-free MP3 and WMA and...well, that's it actually. Let's be honest, if you want a waterproof PMP that plays Flac audio files and H.264 video you are missing the point of aquatic pursuits to start with. Loading content is a simple matter of drag'n'drop from any operating system you care to name though the player also shows up as an MTP device if you want to sync playlists. Sadly though it doesn't have a shuffle feature.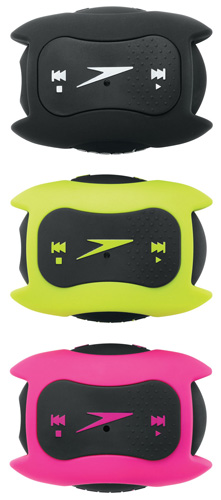 Discreet black or visible day-glow colours – either way, it floats
Once loaded with content the Aquabeat is musically pretty competent. OK, let's qualify that. We are not saying it can compete with a Sansa Clip and a decent pair of earphones because the bass is just a little woolly while vocals sound just a touch too sibilant, but the sound it produces is certainly good enough to keep you diverted while splashing about and is no worse than the sound you get out of an iPod Shuffle with Apple's bundled phones.
More importantly, the sound quality doesn't take too much of a hit when your noggin is submerged. In fact the earphones do a great job of keeping the water out of your ears even during prolonged spells in the drink. Speedo reckons a full charge is good for 9 hours of playback, but the best we managed was just over 7.5 hours, without any sort of charge indicator, you only know you are out of juice when the music dies.
Verdict
Listed at around £75 for the 1GB version and £100 for the 2GB LZR swimsuit-styled incarnation, the Aquabeat is not cheap. Do some astute on-line shopping for better prices and the outlay is probably worth it to put the finishing touches on a decent holiday in the sun or if you are the type who does a dozen lengths each day. And let's face it, that is the target audience, not someone who is worried about dropping their iPod in the bath of a Sunday evening. ®
Thanks to AdvancedMP3Players for the loan of our review unit.
More Media Player Reviews...

Mintpass
Mintpad MP100

Apple
iPod Shuffle

Sony Walkman
X-Series

Apple iPod
Nano 5G
Sponsored: Minds Mastering Machines - Call for papers now open

Speedo Aquabeat
The perfect music player for any aspiring Duncan Goodhew or Steve Zissou, just make sure the use you plan to get out of it justifies the outlay.
Price:
£77 (1GB), £100 (2GB LZR styling) RRP