Microsoft gets in hosted services' face, causes headache
Cloud providers left clutching at thin air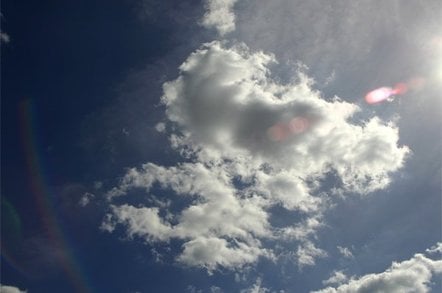 Microsoft may still be struggling to get its online volume licensing house in order, but that hasn't stopped the company hyping what it sees as the benefits of small and medium-sized businesses placing their trust in hosted services.
Like many other software vendors, MS is looking at different biz models that will help the firm flog its products that come saddled with complex licence agreements. It's hoping that shifting the "licensing burden" from SME customers over to hosted service providers such as Star, will help convince punters to push more of their data up to the cloud.
But negotiating Microsoft's unwieldy licensing system represents a tricky proposition for services providers.
"Our number one headache in putting together our margins and our product design is making sure we've got the licensing minefield navigated," Star's UK head of hosting strategy, James Griffin, told The Register today at a Microsoft-sponsored press event in London.
"And I'm expecting it to get more complex certainly when we look at things like hosted desktops, which is a completely different ball game," he added.
Griffin said the Software Provider Licensing Agreement (SPLA) channel setup by Microsoft represented a tough challenge for many hosted service providers in the UK.
He said Star spends around $1.6m a year on Microsoft licensing, and the company has a dedicated manager looking after the paperwork. But he said more SPLA "experts" were needed to help the likes of Star take on Microsoft's complex licensing system.
"SPLA experts are very rare and Microsoft has all the good ones, and people who understand the licensing model - as a career prospect - have a great future ahead of them."
Griffin said that software vendors also needed to provide accreditation for engineers who understand mechanics, electrics and basic data centre infrastructure.
"I'm not entirely convinced big software vendors know where their market is yet," he said. "Nobody - be they server, security or general software makers - knows how to sell to a service provider. It's quite a frustrating seat to fill."
Microsoft's UK small biz head, Robert Epstein, agreed that a gap existed in the market. Although he preferred to point the finger at IT resellers.
"One of the last pieces of the jigsaw is to get the channel on board," he said. "Yes, there is skepticism from the channel, and fear of the big guys going direct. But the inherent value to the customer of cloud solutions is there.
"If they don't start to adapt then they will suffer from competitive threats beyond Microsoft anyway."
Without naming names (Google, Salesforce.com et al), Epstein said that a lot of direct vendors were already offering similar services to customers. "If the value is there for the end customer, then the customer will vote with their feet," he said.
"So the channel needs to come on board and look at the opportunity this presents, rather than seeing it as a threat." ®
Sponsored: Minds Mastering Machines - Call for papers now open