Virtualisation for Beginners
It's not just for server jockeys, you know
Both VMware and Parallels also allow you run the whole guest operating system either as a single entity in its own window, or full screen, which makes it look as if it owns the entire machine. In conjunction with the Mac OS X Spaces feature - a way of flicking immediately between virtual desktops with the touch of a key combination or a mouse gesture - this is a great way to switch almost instantly between multiple operating systems.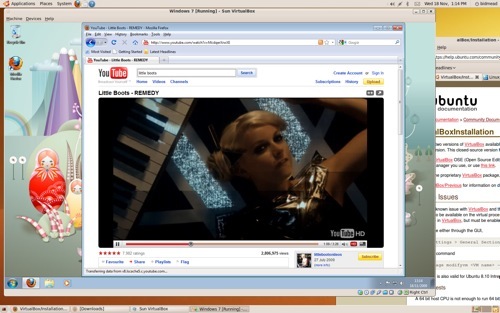 YouTube HD running smoothly on Windows 7 in a VirtualBox VM under Ubuntu Linux
One other side benefit of virtualisation should appeal to anyone who runs lengthy processes on their machine. It seems to happen all too often that you're re-encoding a movie as a background process, when you need to reboot your machine, to install a system update, say, or fix a hardware problem. If the conversion is running on the host operating system you'll either have to wait until it's finished, or stop it and start all over again from scratch. But if it's running in a virtual machine, you just suspend the virtual machine and then reboot the host or whatever else you have to do. When you restart the virtual machine, the compilation will pick up from exactly where you left it.
With a sufficiently powerful processor, running multiple guest operating systems becomes feasible. Virtualisation has a performance impact, of course - if you're thinking of using it for gaming, for instance, dream on - but for office and straight graphics work my Intel Core 2 Quad easily runs Ubuntu Linux, Windows 7 and Windows XP in separate VMs under Snow Leopard. ®
VirtualBox
Sun's VirtualBox is a free virtualisation utility available for Windows, Mac OS X and Linux. It lacks some of the finer features of VMWare and Parallels, but otherwise does an excellent job.
VirtualBox on Linux depends on modules that need to be compiled especially for the particular kernel in use. But if you're using one of the current common Linux distributions you should be able to find your distribution-specific package here.
Sponsored: Minds Mastering Machines - Call for papers now open