Man makes music on Linux-based touchscreen guitar
Spinal Touch
Forget everything you know about guitars – acoustic or otherwise — because a hi-tech guitar has been designed that replaces strings and strumming with a touchscreen and Linux.
The Misa Digital Guitar is shaped like a traditional electric guitar, but made from plastic and – instead of strumming — requires the player to tap their fingers on an 8.4in LCD.
Can't see the video? Download Flash Player from Adobe.com
The process sounds bizarre, though Misa's creator – a software developer known only as Michael – makes playing the futuristic guitar look extremely easy in his demonstration video (shown above).
Misa replaces strings with six rows of metal contacts and 24 sets of equally-spaced frets, allowing players to produce different notes as they simultaneously tap their fingers on Misa's screen.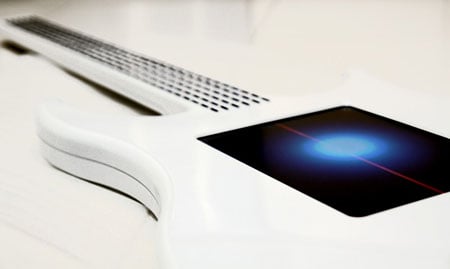 Misa's frets are not pressure sensitive
The guitar's touchscreen only supports single-touch tapping. Sounds get louder the further towards the bottom of the touchscreen you tap, with more distorted sounds created by moving to the right of the screen.
Misa contains a 500MHz AMD Geode processor and runs the Gentoo version of Linux, which Michael said "is just for the brains of the guitar". Sound is produced by plugging the instrument into a Midi controller.
Michael has promised that the guitar will be produced in black and white body colours. A price or launch date hasn't been set, though you can register your interest online now.
Misa Digital – presumably the company set-up to handle the instrument's impending sales – is based in Australia. Register Hardware is keeping its fingers crossed for a UK launch. ®
COMMENTS
Why...
has he messed with the fret intervals? Surely this will put off "proper" guitarists who will need to re-learn left hand positions.
Hmmmm
I suppose you could play the bongos on this too. Which can't be done on a real guitar. If it costs less than 50 quid great. If not i'll wait till I see him playing Cavatina on it , then I'll buy one.
So it's...
Basically a guitar shaped midi controller with an annoying touch screen.
Oh well, the idea sounded good.
Is it just me...
And it could just be because I'm listening to it on the work PC, with crappy speakers, but doesn't that just sound like the sound effects from a first-generation 16bit console game?
Pedants 'r' us
"equally-sized frets"
Probably, but I think you mean "equally-spaced frets".
"Sound is produced by plugging the instrument into a Midi controller."
Sound is produced by plugging the instrument into a MIDI sound module.
Fixed!
Not for me though, thank you.