Acer T230H multi-touch monitor
Point and flick?
One particularly frustrating example is trying to move a Windows Sticky Note around the screen. Touch the part containing text, and you'll automatically enter text entry mode, but attempting to edge your finger carefully towards the right spot on the window can also fail, as the monitor detects your finger's presence a millimetre or so before it actually makes physical contact.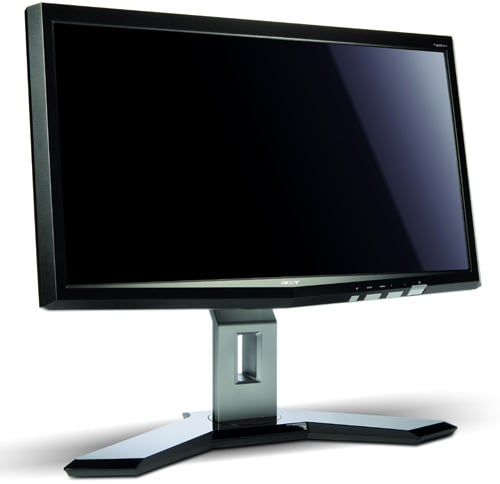 The gestures work, but it's the image that needs touching up
At its native resolution and with Windows setup with its default font size, screen elements can be really tiny and difficult to operate with the touch screen. However, selecting large fonts from the Windows control panel improves things significantly, making icons generally large enough to be easily selected with a finger. Once you get used to it, the T230H can genuinely be much faster than using a mouse – especially, when navigating web pages, which you can flick through like the pages of a book.
Although the T230H is able to turn many impressive tricks from the touch screen, its performance as a standard monitor has been somewhat compromised. Colour reproduction and contrast both suffer. Its rated colour gamut of only 72 per cent of NTSC is distinctly is distinctly lacklustre. Although we measured rather better results of around 87%, we still wouldn't say the colour reproduction was impressive.
Display contrast is also less than perfect. On starting up the PC, the Windows logo appears to be on a dark grey background, rather than black. Calibration improved picture output considerably both in terms of colour and contrast, but we still wouldn't recommend this display to users who went the most accurate display for photo editing.
Verdict
While the multi-touch function works reliably, you'd have to have a real need for it before buying this monitor. Not simply because of the extra cost, but because the image quality doesn't appear to be as good as many others in Acer's considerable catalogue of displays. ®
More Touchscreen Gear Reviews...

PsiXpda
Pocket Computer

Packard Bell
oneTwo M

Acer Aspire
5738PG Touch

MSI Wind Top
AE1900
Sponsored: Minds Mastering Machines - Call for papers now open

Acer T230H multi-touch monitor
Robust and fairly finger friendly but, as a monitor, the image is left wanting.