Acer T230H multi-touch monitor
Point and flick?
Touch screens are hardly new, with many devices incorporating them with the simple mouse pointer control easily understood and used by applications. However, to take advantage of multi-touch, you'll need software specially written to deal with more than one touch point at any given time.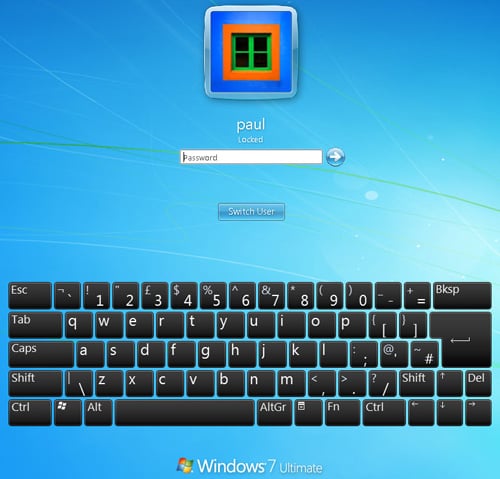 Windows 7's touch Qwerty keyboard login screen
If you're running Windows 7 then there's multi-touch support built into the operating system. So all you need to do is hook up the monitor and you can start using multi-touch features right away. For example, the built-in Windows Photo Viewer will allows pinch-to-zoom and two-finger rotate features, much as you would on an iPhone – though sadly without the smoothly animated rotation of the latter.
You also get to use the rather nice Windows on-screen keyboard and gesture-based controls for navigation. What's more, when you're using touch input, Windows 7 endeavours to make things easier for you by automatically adding in extra space in menus to help alleviate your fat-fingered fumblings.
Some third-party applications such as Corel's Photo Studio 10, have incorporated multi-touch into the control interface, making good use of its capabilities throughout the suite. Yet, many older applications remain blissfully unaware of touch input devices, but Windows 7 has built in some legacy support for such programs allowing most of them to make use of the basic two-finger panning, zooming and flicking gestures.
The T230H supports two touch points, so you'll be able to perform the essential multi-touch operations outlined above, but is doesn't come close to palette of sophisticated many-fingered gestures supported by the Mac. That said, the T230H's multi-touch features aren't supported by the Mac at all.

Plenty of input opportunities
Using the T230H to control Windows is sometimes a joy – the large text and controls found in Windows Media Center, for example, make it really quick and fun to use. However, it can occasionally be rather frustrating too often resulting in repeated failed attempts to drag and drop or select a particular screen element.
Sponsored: Minds Mastering Machines - Call for papers now open