Net Neutrality: Now cures all wickedness - and Loompa scurvy, too
The lynch mob and the FCC
How ideology busts the citizens' networks
In the first, a community of citizens in a small town - let's call it HappyVille - decides to mutually own and operate their town's network. In order to defray the cost of buying bandwidth, they grant the HappyVille Co-Op Network a video-on-demand service. Punters pay HCN their $3.50 a movie knowing that the profit generated maintains the pipes. In order to keep the HappyVille citizens who prefer to get their copyright content illegally, however, they create a fast lane that goes only to TVs, for delivering the movies. This keeps the Torrenters happy, too. The HCN serves one happy town.
But that could be illegal under Neutrality rules. It would only take one bitter or ignorant ideologue in HappyVille to complain to the FCC and remind regulators that the Neutrality rules were being broken. Asking "Where's the harm?" would not be a valid question. The Co-Op has committed a crime against Neutrality: Go string them up.
In the second example, let's imagine that a diaspora of Latin Americans decide to start their own ISP. They club together to buy cheap international traffic back to Central and South America. Subscribers to the ISP enjoy cut rate VoIP calls to family and loved ones. It offers a community alternative to the scalping rates of large telcos. But voice traffic on an IP network is highly susceptible to latency and jitter - and one relentless Torrent seeder can cause problems. And as above, that one Torrenter can complain to the FCC that Neutrality Crimes are being Commmitted. So let's close the joint down. No more cheap calls for you.
That's how the advocates seem to like it. One guy with his trousers around his ankles can invoke a virtual national lynch mob.
Ask Whitey; he knows best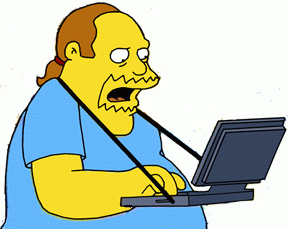 Decisions on what network practices are permissible will now be deferred to this guy.
There's something uniquely distasteful about the sock puppet "citizens" groups evoking citizens rights to deprive citizens of choices. Some Progressives have always viewed ethnic minorities as little more than an opportunity for a photo shoot, and then forget about them for the next four years. This is all that, but it's worse, too: it's patronising and misleading them. It insults their intelligence. Whitey still decides what kind of networks they are permitted to run.
The internet was so much easier before the technology utopians (abetted by Google) decided to write the world's first technical rulebook for the internet. When there was no rulebook, you could do what you want technically - and your network either succeeded or failed, according to the laws of physics, or the laws of business. Now you have to pass some arbitrary political correctness test, adminsitered by Comic Book Star Guy. Ain't life grand?
You have to admire "Neutrality" itself though, and more and more each day. This metaphysical, metaphorical firehose can be anything an authoritarian wants it to be. It allows people who want to be in politics but who can't do politics (in terms of vision, persuasion, coalition building, honesty) to wield tremendous power. It may not last, since it's almost certainly unconstitutional, and the consequences leave everyone (except you-know-who) worse off. But it's a great example of net nerds flexing their muscle. ®