PsiXpda pocket computer
Psion of the times?
Workarounds include dragging the boxes, rotating the screen so you can see more of their height and, rather interestingly, changing the screen resolution to 1024 x 768 from the same system tray link used to rotate the display. This interpolated resolution makes the display squint-inducingly small, but you can see all of a window.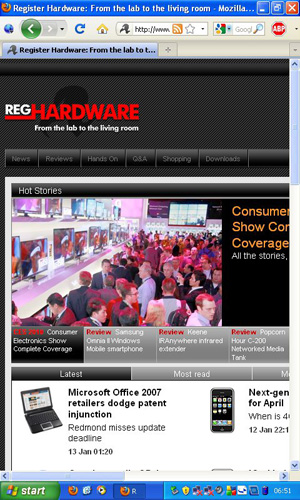 Portrait-style browsing
Other niggles include the Wi-Fi, which supports 802.11b/g, but not 802.11n. Also, the headset socket is 2.5mm rather than 3.5mm, and a rather lacklustre set of flat in-ear buds is provided. Music playback through the internal speaker is loud enough for personal listening, but unsurprisingly is on the tinny side.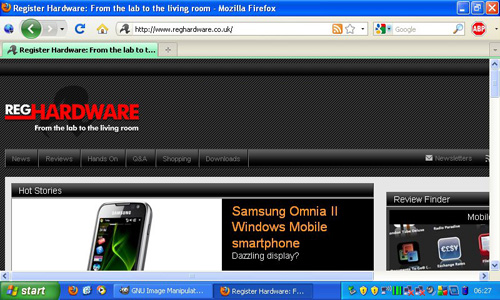 Browsing screen real estate in landscape mode
Still, the device had no trouble finding music on a USB drive inserted into the one full sized USB slot and, this along with micro SD option, are both very convenient ways to get data on and off the PsiXpda. An alternative is to create a direct connection, using the PsiXpda's mini USB port and the provided cable, to another computer for file sharing. The supplied software manages the client/host relationship between PsiXpda and another Windows device.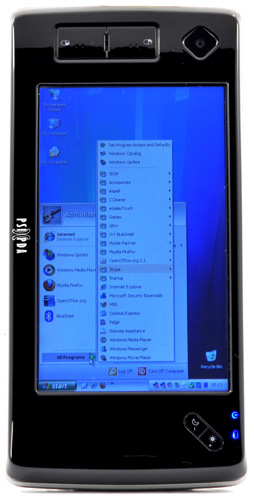 Running Windows XP Pro, any screen orientation is available
The 3G data connection is a nice touch and is catered for by a Huawei EM730 modem. Getting 3G data is not a simple plug and play operation. You'll need to configure the Huawei Mobile Partner software with some settings. You'll find a range of these for the main UK network operators in an appendix to the PsiXpda manual, that alas, you need to download. This information might well suffice but, if not, configuration settings are easily obtained from your telco operator.
Sponsored: Minds Mastering Machines - Call for papers now open