As with most cameras, there are limitations when operating in the video mode, for example, you can't adjust the aperture once recording has started. Despite all the options available – and we've not even scratched the surface when it comes to digital filters and picture effects – the K-7 is a delight to use and we reckon most users would have few problems getting to grips with it.
Robust seals and chassis offer protection against the elements
Albeit sluggish in Live View mode, the 11-point AF system is swift when using the viewfinder and 77-segment matrix metering performs well when it comes to getting the correct exposure. Picture quality was sharp, with rich colours and low noise up to ISO 800. RAW images were slightly cleaner and sharper. The K-7's shake reduction system worked a treat and Pentax says it's effective for up to four stops – we wouldn't disagree.
HDR (High Dynamic Range) takes three images at different exposures and combines their data to extend the dynamic range, and proved very effective at bringing out detail normally lost in some shooting situations. The slow shutter speeds were useful for shooting in low light, less useful were the highest ISO settings – shooting at ISO 6400 was like looking at a snow storm through frosty glass.
The top continuous shooting speed is a nifty 5.2fps and you can shoot up to 40 JPEGs or 15 RAW files – it worked a treat. Video quality was good too, and while the K-7 only offers mono sound, you can plug in a stereo microphone. A full battery charge is claimed to be good for 740 frames and we shot hundreds of frames and lots of video footage, and still had juice to spare.
Verdict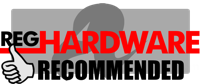 As an entry level camera we were impressed with the K-m, and remain so with the far more sophisticated K-7. It's designed to survive challenging environments, yet remains a joy to handle and can even double up as an HD camcorder. Also, noise concerns with JPEGs at higher ISO settings can be alleviated by shooting RAW image instead. Indeed, the Pentax K-7 delivers an impressive performance, bristles with useful features and offers enough customisation to satisfy the most demanding control freak.
More DSLR Reviews...

Nikon
D300s

Canon
EOS 5D Mark II

Pentax
K200D

Olympus
E-420

Pentax K-7
A compelling mix of performance, handling, features and build quality. Enthusiasts and semi-pros should check it out.
Price:
£1120 (body only), £1150 (18-55mm lens kit), £1250 (with 50-200mm lens) RRP
More Info:
Pentax's K-7 page
COMMENTS
Where does this stupid idea come from that there is a shortage of lenses for Pentax?
As well as dozens of new ones, there are thousands of lenses on the second-hand market to fit Pentax digital SLRs. All K-mount lenses from the last 35 years can be used, as well as M42 lenses (with an adapter) from even before that.
Good point on shake reduction
Ivan's point is worth calling out. UNLIKE Canon and Nikon, Pentax puts shake reduction in the camera body. Thus, 30 year old lenses work with shake reduction turned on. And brand new lenses can be smaller and cheaper than an equivalent Nikon and Canon lenses which must put shake reduction inside each lens. There are advantages and disadvantages to each system, as with everything in life, but the original big advantage of putting it in the lens is that it worked with 35mm film cameras (before digital even existed). That advantage for Nikon and Canon is now gone and more of a historical decision they continue to live with.
Mine is bigger than yours, ner ner
"So you have an image stabilised auto-focus 300mm f2.8 then?"
Who really cares? Hardly anyone actually buys lenses like that, and if they do, they probably know in advance not to get a Pentax. It's not exactly sort of lens you buy on a whim.
"If you need to justify why you bought Pentax, fine, but I suggest it wasn't for the wide availability of lenses..."
Look! My camera system has more lenses than yours! It MUST be better!
No. Maybe people buy Pentax (or Sony or Olympus or Panasonic) cameras because those systems have the actual lenses they need, along with cameras that have the features they need.
The title is required, and must contain letters and/or digits.
@tangerine Sedge. "I still use EOS lenses on my 5D that I bought over 20 years ago!"
And I'm using Pentax lenses from 20 years ago with my K7 - what's your point?
I concur with the K7's battery-life, ruggedness and weatherproofness. Over Christmas and New Year I took 650+ photos and there was still plenty of charge left. I covered a Boxing Day swim in the Isle of Wight (horzontal rain) and managed to drop the camera too. The K7 still hasn't missed a beat yet.
Too right, It's all about the lenses.
I'm using 30 year old lenses on my Digital Pentax SLR.
As a consequence, they've all got shake reduction.