There's also a secondary monochrome LCD screen on the top, next to the pop-up flash and hotshoe that gives basic operational information. There are two e-dials on the K-7's body, one at the front and the other at the back, which are used for adjusting the shutter and aperture settings.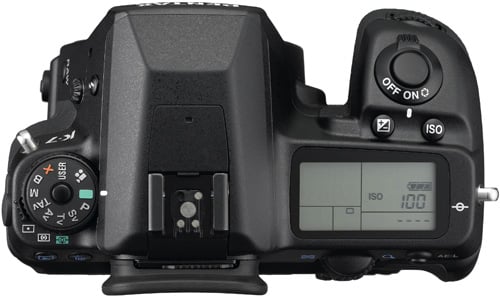 Program options include a Sensitivity mode
The large mode dial has a push-button lock, so you can't accidentally switch modes. There's a wide selection of modes on offer. User mode gives you fast access to your customised settings; green is another name for auto mode; then there's hyper program (more on this below), shutter priority, aperture priority, movie and hyper manual.
And there's more – sensitivity priority automatically selects the optimum shutter speed and aperture for the ISO setting, while shutter and aperture priority does the opposite. Godsend or gimmick? We have to admit to reaching the latter conclusion. You also get a flash sync speed mode. The Hyper modes are so-called because, you can instantly switch from Program or Manual mode, to shutter or aperture priority by simply selecting one of the e-buttons.
Although the K-7 can be used as a point-and-shoot camera, most users are going to want to customise the settings, and the good news is, there are plenty of options. At first sight, the K-7's menu system is rather daunting – the shooting menu has four tabs offering 26 options, the playback menu has a single tab, the set-up menu four tabs, and the custom menu, six tabs covering everything from e-dial settings in various modes to colour temperature steps to the white balance setting when using a flash.
We'll just mention a couple of menu settings that caught our eye. A lens correction setting can be used to rectify lens distortion and lateral chromatic aberration, while a copyright option lets you embed your name in the Exif data. Fortunately, adjusting the most commonly used parameters is pretty fast and painless. There are buttons for adjusting ISO speed (you can use the viewfinder, LCD screen or LCD top panel to view your settings) and selecting RAW.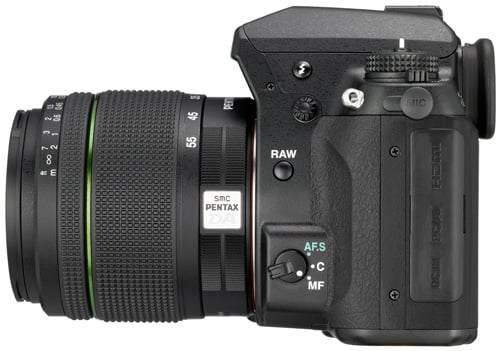 Change file format instantly with the RAW button
An Info button displays parameters such as ISO speed, exposure compensation, file format and image quality. Press the info button again and you can swiftly adjust these and other settings such as digital filters and lens correction. A four-way controller gives you quick access to features such as flash mode, white balance and drive mode.
COMMENTS
Where does this stupid idea come from that there is a shortage of lenses for Pentax?
As well as dozens of new ones, there are thousands of lenses on the second-hand market to fit Pentax digital SLRs. All K-mount lenses from the last 35 years can be used, as well as M42 lenses (with an adapter) from even before that.
Good point on shake reduction
Ivan's point is worth calling out. UNLIKE Canon and Nikon, Pentax puts shake reduction in the camera body. Thus, 30 year old lenses work with shake reduction turned on. And brand new lenses can be smaller and cheaper than an equivalent Nikon and Canon lenses which must put shake reduction inside each lens. There are advantages and disadvantages to each system, as with everything in life, but the original big advantage of putting it in the lens is that it worked with 35mm film cameras (before digital even existed). That advantage for Nikon and Canon is now gone and more of a historical decision they continue to live with.
Mine is bigger than yours, ner ner
"So you have an image stabilised auto-focus 300mm f2.8 then?"
Who really cares? Hardly anyone actually buys lenses like that, and if they do, they probably know in advance not to get a Pentax. It's not exactly sort of lens you buy on a whim.
"If you need to justify why you bought Pentax, fine, but I suggest it wasn't for the wide availability of lenses..."
Look! My camera system has more lenses than yours! It MUST be better!
No. Maybe people buy Pentax (or Sony or Olympus or Panasonic) cameras because those systems have the actual lenses they need, along with cameras that have the features they need.
The title is required, and must contain letters and/or digits.
@tangerine Sedge. "I still use EOS lenses on my 5D that I bought over 20 years ago!"
And I'm using Pentax lenses from 20 years ago with my K7 - what's your point?
I concur with the K7's battery-life, ruggedness and weatherproofness. Over Christmas and New Year I took 650+ photos and there was still plenty of charge left. I covered a Boxing Day swim in the Isle of Wight (horzontal rain) and managed to drop the camera too. The K7 still hasn't missed a beat yet.
Too right, It's all about the lenses.
I'm using 30 year old lenses on my Digital Pentax SLR.
As a consequence, they've all got shake reduction.