Pentax K-7
Weatherproof sharp shooter with HD video
Review Last February we looked at the Pentax K-m, a rather tasty entry-level DSLR. Yet the K-7 is a different kettle of fish from the K-m, it's a more advanced model aimed at the enthusiast/semi-pro market.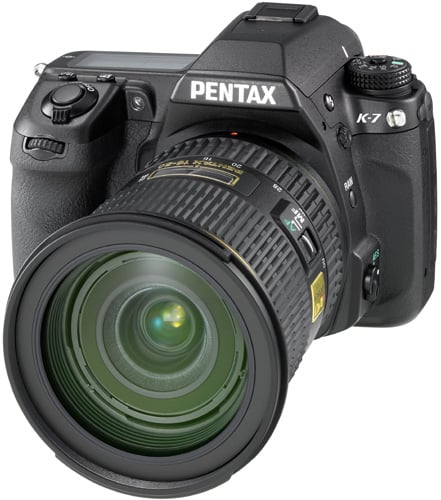 Environment friendly? Pentax's K-7
Measuring up at 96.5 x 130.5 x 72.5mm and weighing 750g with battery and card, the K-7 can be purchased as a body-only or as a kit. We tried the 18-55mm F/3.5-5.6 lens option – equivalent to 27.5-84.5mm on a 35mm camera that, curiously, Pentax's on-line shop prices at only £30 more than the body-only listing. A second kit adds a 50-200mm lens – 76.5-306mm in 35mm. The camera has a 23.4mm x 15.6mm CMOS sensor with 14.6Mp (effective) and HD movie recording in two modes: 1536 x 1024i and 1280 x 720p, both at 30fps. The former can be upscaled to 1920 x 1080i from the K-7's mini HDMI output.
The shutter speeds span 1/8000 to 30secs, plus Bulb, with the normal ISO range 100-3200, expandable to 6400. The K-7 supports JPEG and RAW (PEF and DNG formats) shooting and features an ultrasonic dust cleaning system. The camera utilises a lithium-ion rechargeable battery and SD/SDHC cards.
In terms of handling, the K-7 is very impressive. The first thing you notice is how solid and robust the camera feels. No surprise when you consider that it has a magnesium alloy body designed to be used under rugged conditions. There are 77 dust proof and weather resistant seals dotted around the body – the battery, card and connection port slots are well-protected and you can use the K-7 in -10°C conditions.
Switch on is fast and you can get snapping in under a second. Shutter lag is minimal and the mechanism is built to last through 100,000 cycles – very impressive. The K-7 has a pentaprism-based viewfinder, which offers a 100 per cent field of view. It's a joy to use, providing great coverage and lots of useful information about the camera settings.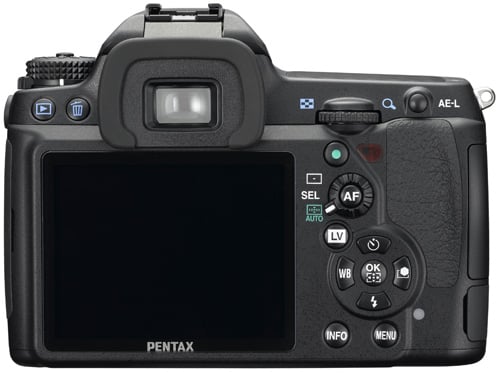 Live view monitoring, but a fixed LCD panel
This also being a video camcorder, there's Live View in the shape of a 3in LCD screen composed of 920,000 dots. It's large, bright, clear and has a wide viewing angle. The LCD also incorporates autofocus and face recognition functions. Some users, however, will be disappointed to find that the LCD screen isn't articulated.
COMMENTS
Where does this stupid idea come from that there is a shortage of lenses for Pentax?
As well as dozens of new ones, there are thousands of lenses on the second-hand market to fit Pentax digital SLRs. All K-mount lenses from the last 35 years can be used, as well as M42 lenses (with an adapter) from even before that.
Good point on shake reduction
Ivan's point is worth calling out. UNLIKE Canon and Nikon, Pentax puts shake reduction in the camera body. Thus, 30 year old lenses work with shake reduction turned on. And brand new lenses can be smaller and cheaper than an equivalent Nikon and Canon lenses which must put shake reduction inside each lens. There are advantages and disadvantages to each system, as with everything in life, but the original big advantage of putting it in the lens is that it worked with 35mm film cameras (before digital even existed). That advantage for Nikon and Canon is now gone and more of a historical decision they continue to live with.
Mine is bigger than yours, ner ner
"So you have an image stabilised auto-focus 300mm f2.8 then?"
Who really cares? Hardly anyone actually buys lenses like that, and if they do, they probably know in advance not to get a Pentax. It's not exactly sort of lens you buy on a whim.
"If you need to justify why you bought Pentax, fine, but I suggest it wasn't for the wide availability of lenses..."
Look! My camera system has more lenses than yours! It MUST be better!
No. Maybe people buy Pentax (or Sony or Olympus or Panasonic) cameras because those systems have the actual lenses they need, along with cameras that have the features they need.
The title is required, and must contain letters and/or digits.
@tangerine Sedge. "I still use EOS lenses on my 5D that I bought over 20 years ago!"
And I'm using Pentax lenses from 20 years ago with my K7 - what's your point?
I concur with the K7's battery-life, ruggedness and weatherproofness. Over Christmas and New Year I took 650+ photos and there was still plenty of charge left. I covered a Boxing Day swim in the Isle of Wight (horzontal rain) and managed to drop the camera too. The K7 still hasn't missed a beat yet.
Too right, It's all about the lenses.
I'm using 30 year old lenses on my Digital Pentax SLR.
As a consequence, they've all got shake reduction.