Samsung SH-BO83L
Combo upgrade time?
This version of the suite also prompts you with a technology called MoovieLive (yes, with a double-o) that wants to keep track of what movies you watch and upload that information to a website. Mindful of the potential significance of the flashing blue light on the drive, we chose to switch this feature off.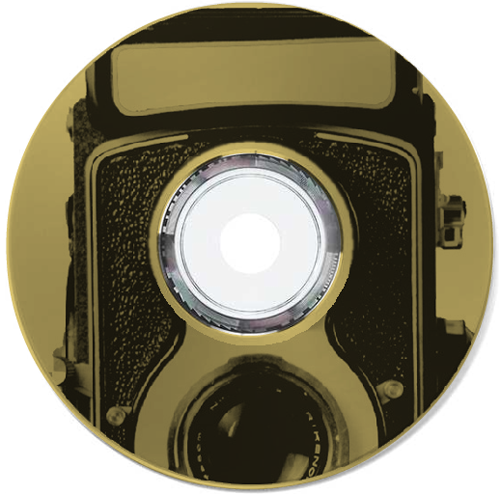 Lightscribe offers an eye-catching way to label media
The LabelPrint application operates the LightScribe feature of the drive, allowing you to burn the label directly into the top surface of LightScribe-compatible media. During our tests, however, the drive initially failed to recognise our LightScribe discs. Thinking a minor firmware update might be in order, since our test PC was running Windows 7, we were forced to endure a frustrating online registration process that refused to accept our details because our email address did not end with '.com', repeatedly complaining 'You has not registered' (sic).
When we finally fought our way past this stage, our attempts at locating the correct firmware updater to download led to a web page that informed us: 'It does not support' (sic). We eventually persuaded the drive to recognise LightScribe media without any firmware update, but only after a lot of experimentation and restarting. LightScribe labels took about 25-30 minutes to burn.
Blu-ray and DVD playback was excellent through CyberLink PowerDVD 8, although the drive itself was not as quiet as we would have liked. It is not something you would notice in a living room environment but it takes a few minutes to forget about the hum when you are watching a movie at a desk with the computer right next to you. Headphones are probably in order.
We also experienced initial problems with Blu-ray playback, PowerDVD managing to play the audio but leaving the video screen resolutely blank. The problem was fixed by installing different Windows 7 video card drivers, although it is worth noting that DVD – as opposed to Blu-ray – movie playback had given us no problem at all prior to this. Samsung says the drive is compatible with Windows XP (SP2), Vista and 7, but our experience suggests that Windows 7 users might have to tweak a few things.
Verdict
With its great price, software bundle and performance spec, this drive is quite a bargain. We would have preferred everything to work under Windows 7 Home Premium straight out of the box, but even if this is not yet possible, some better on-line guidance, written in correct English, would have increased our review rating by 10 per cent. ®
More Optical Drive Reviews...

Lite-on ETDU108
USB DVD drive


PLDS iHES208
BD-Rom combo

Pioneer BDR-203BK
Blu-ray writer

LG BE06-LU10
Blu-ray writer



Samsung SH-BO83L
Affordable BD-Rom and CD/DVD burner, yet might require a little patience from Windows 7 users.