The speed with which the system skips from one station to the next was the fastest we have come across on a set top Freeview box of any type. Ease of use is further enhanced by the bundled remote which is the same, excellent, Sky-type device TVonics has been offering for a while.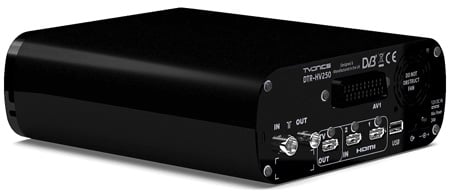 Not the cheapest, but arguably the swiftest
Despite the HV250 standing on its own two feet, TVonics also describe it as a "stepping stone" towards a Freeview HD DVR device to be released later in the year. So, the 50 per cent of the UK population who should be able to receive Freeview HD by the time the World Cup kicks off, may want to keep this in mind.
At £230, the HV250 is not what you would call cheap. The obvious competition comes from the Humax PVR 9300T, which will set you back around £180 but only has the one HDMI port though you do get a larger, 320GB hard drive. Also, Sagem makes a 250GB Freeview+ box that can be picked up for under £150 - the DTR 67250T.
Yet with the Sagem, you only get the one HDMI port and there are reports of sundry UI and firmware problems. Apparently, owners have described the DTR 67250T's hard-drive as making more noise than a cement mixer having sex, which we took to be a bad thing. The HV250, however, is also designed and made here in Blighty and many will be happily cough up a few extra quid just to support local talent.
Verdict
As a standard definition Freeview recorder, the HV250 is hard to fault. It's well made, attractive, easy to use and does everything you would want it to do and we can see the three HDMI ports coming in very handy. Not the cheapest of devices though and fans of hi-def TV will have to wait until later in the year for the Freeview HD version. We'd also like to see a 500GB version version - 250GB is good for about 125 hours of programming, but you can never have too much recorded telly. ®
More TV Recorder Reviews...

Digital Vision
GiGo DV-DTR1

Wyplay
Wyplayer

Elgato EyeTV 310

Emtec
Movie Cube S800

TVonics DTR-HV250 DVR
A fine and capable Freeview+ DVR that ticks all the standard-def boxes and produces a very fine on-screen image.
COMMENTS
TVonics reliability
My TCVonic box looks nice, but has a problem of serial crashing (crash, reboot, crash reboot - 100 times+), 'losing programs' that appear to be recording, refusing to record a series of programmes if someone has foolishly locked one of the programmes previously recorded, sorting programmes based on alphanumeric dates and times so sequence needs to be guessed - andtheir helpline is crap.
Humax 9300T
Got to agree the Humax is pretty stiff competition at the £165 I paid last year. Yes, only one HDMI port, and no USB (IIRC), so not quite the same spec, but I've been very impressed with it. Fast, high quality upscaled picture. UI and remote have a few issues, but otherwise I like it. If the TVonics got below £200 I think the extra features would swing it.
And yes, you can have too much recorded TV. My last PVR expired with stuff recorded two years earlier I hadn't had time to watch......
Price/performance
I guess that's their Sony heritage showing through.
James Hughes 1 - Price Point £200
John Lewis are selling it at £199. Does that swing it?
Overpriced USB tease
For the same money you could buy nearly three single-tuner Grundig GDB20USB3 USB Digital TV Recorders and ACTUALLY record the programmes onto your attached USB storage: harddrives, solid state flash drives, memory cards with USB adapter...
I agree that the front USB is unsightly, but this would be compensated for if it provided direct to USB recording rather than just boring "view your photos" or "play MP3s".