Once we had the HV250 out of the box, plugged in and switched on it pulled in all available Freeview stations in double quick time. We are not entirely sure an operation this simple can be dignified with the term 'set-up', but such as it is, set-up is very easy.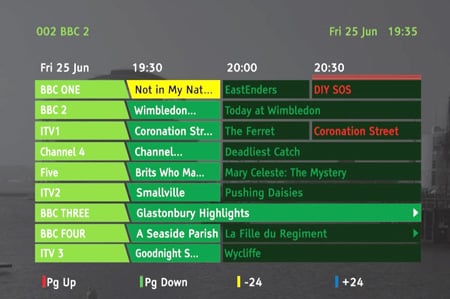 Eight day Electronic Programme Guide
Being a twin tuner device the HV250 will let you either watch one channel while you record another or record two channels while watching either one of them or something previously recorded. Surely enough permutations to keep most folk happy.
Picture quality was excellent on every telly we tried the HV250 with right up to a 50in plasma which proved the value of the players ability to upscale content to 720p or 1080i. Beyond that you get all the usual Freeview+ refinements such as an 8-day programme guide, series-link, Alternative Instance Recording to work around recording clashes and Accurate Recording for when the EPG and reality decide to part company.
The system also includes a time-shift recording buffer that can be set to anything between 10 minutes and two hours and a picture-in-picture feature which lets you watch one thing while keeping a beady eye on something else. You can also set the unit to search for new channels every day so your EPG is kept bang up to date.
The EPG and menu system are essentially the same as the ones seen on previous TVonics DVRs, so they forego graphical extravagance in the name of simplicity and logic. This has always been one of TVonics' strong points and it renders the user guide irrelevant.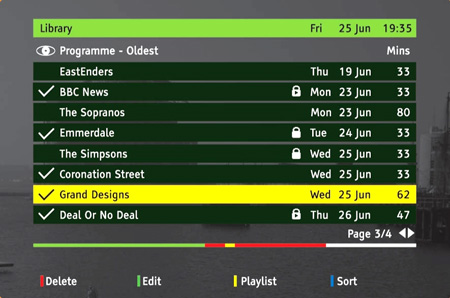 Video library listings
A fine example of TVonics thinking is the indication of how much space you have left on the hard drive - the HV250 gives you the information in terms potential hours of TV rather than as the simple percentage of the total storage capacity found on the Sky+ system.
COMMENTS
TVonics reliability
My TCVonic box looks nice, but has a problem of serial crashing (crash, reboot, crash reboot - 100 times+), 'losing programs' that appear to be recording, refusing to record a series of programmes if someone has foolishly locked one of the programmes previously recorded, sorting programmes based on alphanumeric dates and times so sequence needs to be guessed - andtheir helpline is crap.
Humax 9300T
Got to agree the Humax is pretty stiff competition at the £165 I paid last year. Yes, only one HDMI port, and no USB (IIRC), so not quite the same spec, but I've been very impressed with it. Fast, high quality upscaled picture. UI and remote have a few issues, but otherwise I like it. If the TVonics got below £200 I think the extra features would swing it.
And yes, you can have too much recorded TV. My last PVR expired with stuff recorded two years earlier I hadn't had time to watch......
Price/performance
I guess that's their Sony heritage showing through.
James Hughes 1 - Price Point £200
John Lewis are selling it at £199. Does that swing it?
Overpriced USB tease
For the same money you could buy nearly three single-tuner Grundig GDB20USB3 USB Digital TV Recorders and ACTUALLY record the programmes onto your attached USB storage: harddrives, solid state flash drives, memory cards with USB adapter...
I agree that the front USB is unsightly, but this would be compensated for if it provided direct to USB recording rather than just boring "view your photos" or "play MP3s".