TVonics DTR-HV250 DVR
Freeview+ recorder for yer folks
Review British Freeview box maker TVonics currently eschews the dark arts of HDTV or satellite content and seems content to plough its own furrow providing well made and easy to use Freeview and Freeview+ devices. This equipment is aimed more at the man in the street or tech fanatic's mum, than tech fanatics themselves.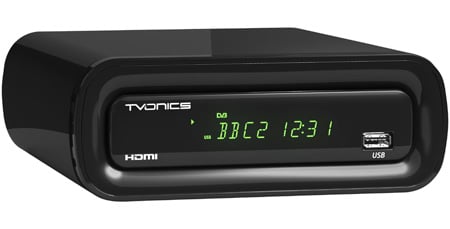 Easy does it: TVonics' DTR-HV250
The new HV250 sits at the top of the TVonics DVR range above the 250GB DTR-Z250 and 500GB DTR-Z500 devices and the family resemblance is clear with the casings of all three devices being exactly the same size and crafted from the same black sheet aluminium.
The obvious external change is the front panel, which now houses an LED display to let you know what channel you are watching and the time rather than the wholly decorative wavy metal panel of the older machines.
Take a shufti around the back and you will find that TVonics has addressed one of the criticisms levelled at its previous DVRs by fitting three HDMI ports. The one outgoing port connects the unit to your telly while the two incoming ports let you hook up other devices such as a media streamer or Blu-ray player and switch between them – handy if you want to connect more devices than your telly has HDMI ports.
Both the HDMI-in ports can handle 1080p content and can pass through HD audio but it's worth noting that the HV250 has to be in operation rather than just on standby to work as an HDMI switch. Also new to a TVonics device are the USB ports. These can be used to display JPEG images or instal new features and firmware updates as they become available.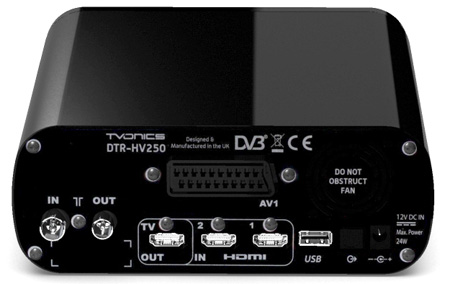 Multiple HDMI interfacing with Scart too
We are not entirely convinced the HV250 needs two USB ports, given the rather limited use they have, especially when the one at the front rather spoils the looks of the unit. Still, maybe a future firmware update will add to the USB functionality. Alongside the HDMI and USB ports you also get a single RGB Scart socket, optical digital audio output and RF in/out sockets.
COMMENTS
TVonics reliability
My TCVonic box looks nice, but has a problem of serial crashing (crash, reboot, crash reboot - 100 times+), 'losing programs' that appear to be recording, refusing to record a series of programmes if someone has foolishly locked one of the programmes previously recorded, sorting programmes based on alphanumeric dates and times so sequence needs to be guessed - andtheir helpline is crap.
Humax 9300T
Got to agree the Humax is pretty stiff competition at the £165 I paid last year. Yes, only one HDMI port, and no USB (IIRC), so not quite the same spec, but I've been very impressed with it. Fast, high quality upscaled picture. UI and remote have a few issues, but otherwise I like it. If the TVonics got below £200 I think the extra features would swing it.
And yes, you can have too much recorded TV. My last PVR expired with stuff recorded two years earlier I hadn't had time to watch......
Price/performance
I guess that's their Sony heritage showing through.
James Hughes 1 - Price Point £200
John Lewis are selling it at £199. Does that swing it?
Overpriced USB tease
For the same money you could buy nearly three single-tuner Grundig GDB20USB3 USB Digital TV Recorders and ACTUALLY record the programmes onto your attached USB storage: harddrives, solid state flash drives, memory cards with USB adapter...
I agree that the front USB is unsightly, but this would be compensated for if it provided direct to USB recording rather than just boring "view your photos" or "play MP3s".