Samsung Omnia II
Dazzling display?
There are three home screens, each of which can be customised with a different background pic and you can populate each with the widgets from the bar on the left. Only one per screen though and – as with other TouchWiz phones – there isn't an icon for every app, though you can add any apps to the main menu.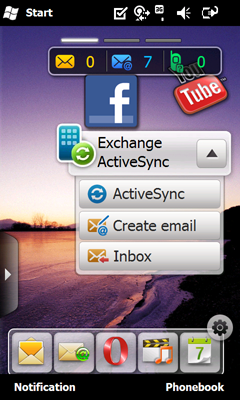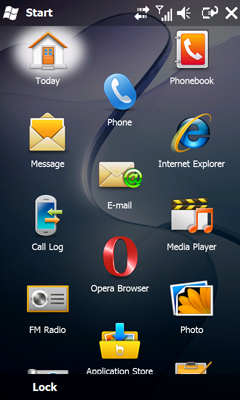 Home screen and main menu
Nice to see a Facebook app preloaded, though the Youtube widget turned out to simply provide a shortcut to the website, which seemed like a bit of a cheat compared to the mobile-optimised Youtube apps we've seen on Windows Mobile phones from HTC, for instance.
Slightly worryingly, it comes with one of those awkward strap-on styli, which are neither fish nor fowl. Fortunately, we never felt the need to use it, since all menu options appeared to be easily accessible with the finger. Indeed, it just goes to show how much the Windows Mobile operating system has come on since its predecessors.
The Omnia II features an 800MHz processor and for the most part it seemed to be a reasonably speedy phone, although it would lag occasionally when opening apps if we already had a few on the go. The keyboard's easily accessed by pressing the call start button and has nice, big thumb-friendly buttons. Call quality was perfectly fine, with the speaker offering a well-rounded tone to voice calls.
Configuring e-mail accounts was easy, with most requiring just an address and password. There's support for MS Exchange too, which will make it handy for many business networks. The onscreen Qwerty keyboard is nicely spaced, but suffered a bit from the screen's lack of sensitivity at the edges, and we regularly had difficulty hitting the right keys first time.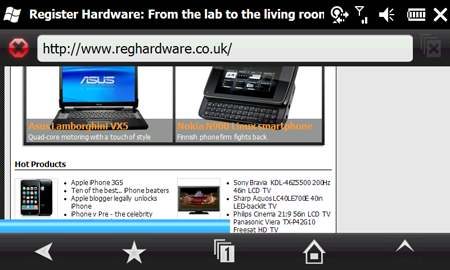 The default browser is Opera, with IE on-board too
For Internet browsing there's Opera as the default and Internet Explorer on board, plus HSDPA 3G and Wi-Fi (easy to set up) for fast access, and the accelerometer flips the screen into landscape mode when you turn it on its side. There are lots of options to help speed up browsing – such as blocking pop-ups and managing cache size – and support for Flash video, which is always welcome. There's also word search and while there's no multi-touch pinch-to-zoom option, you can double tap or hold the screen to access zoom functions.
Sponsored: Minds Mastering Machines - Call for papers now open