Beeb reporter breaks Sonim's 'unbreakable' phone with fishtank
All in a day's work
A BBC reporter covering this year's CES broke Sonim's…ahem…"unbreakable" mobile phone during a video demonstration of its toughness.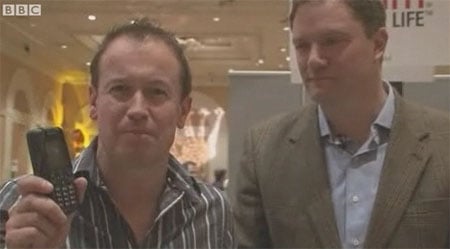 BBC Reporter Dan Simmons (left) tests and breaks a Sonim handset
After dunking the handset into a fishtank, Reporter Dan Simmons repeatedly smashed the device onto the tank's corner.
On his fourth attempt to break the handset a horrible crunch can clearly be heard as the phone's screen cracks, forcing Sonim CEO Bob Plaschke to admit: "You've actually broken the phone."
Simmons didn't say which Sonim model he was testing, although it was likely to have been the XP3.2 Quest Pro – Sonim's most recent handset, which was unveiled at CES.
Register Hardware has reviewed Sonim handsets in the past, including the S1, but we may pass on the latest one! ®
COMMENTS
RPS
If I was the Sonim presenter, the fish tank wouldn't have remained unbroken for long.
'phone irradiates head
Fish tank breaks 'phone
Head smashes fish tank.
It's like a painful, expensive version of rock, paper, scissors
it did break, but....
he was hammering the hardest to protect, most delicate part of the phone bloody hard against a corner... the forces on the screen were pretty extreme! the fact that it took about 4 or 5 attempts to break is really very good going!!
you dont know how tough something is till it breaks... for me, seeing that it does take that sort of abuse is a good selling point! and if the screen is proper daylight readable, ill have one for days on the yacht
he did....
and its got a broken screen!!!
Amazing phone
It is amazing that if you see the video, still the phone works. And anyway Sonim phones are covered by a three year unconditional warranty, which other phones don't have.
As piloti says, this is really a lot of stress for a phone. Other phones would not have held this long.
Excellent stuff
The best part of the video is the way the journalist is so abjectly apologetic (so much for hard-hitting journalism) while Plaschke remains completely calm and collected about the whole incident. Sheer class.