Sony punts pair of trendoid cameras
Unfortunately, they're called 'Bloggies'
CES 2010 Brain-dead video capture has been embraced by a company whose high-end cameras capture much of the professional video you see on the tube: Sony.
Bare-bones video was essentially invented by Pure Digital Technologies, makers of the Flip Video line. Cisco liked the idea so much - and, undoubtedly, the fact that the proliferation of such bandwidth-gobbling devices would increase the need for its networking hardware - that it acquired the company in March of last year.
Copycat products designed for shooting and uploading video to share with your peeps have followed, perhaps the most well-known (and of lowest quality) being Apple's iPod nano, which captures quick-and-dirty video at a measly resolution of 640 x 480 pixels.
Now Sony is getting into the act, with a two-camera line christened with the arguably regrettable name of Bloggie. When the cameras were introduced Wednesday at a Sony press event at the Consumer Electronics Show in Las Vegas, Nevada, Sony Electronics president and COO Stan Glasgow pronounced the name, paused, then added, "Yes, you heard me right. Bloggie."
Once you get past the silly branding, however, the two Bloggies appear to be - on paper, at least - decent pieces of amateur kit. Known by their more sober, Sony-style individual names of MHS-CM5 and MHS-PM5, these amateur video and still cameras have a lot going for them.
Both cameras capture 1920 x 1080 pixel MP4 video and 5-megapixel still images, but the $199.99 MHS-CM5 is the more accomplished of the two. With a pistol-style form factor and a 2.5-inch fold-out LCD display, the MHS-CM5 has a 5x optical zoom and an HDMI output.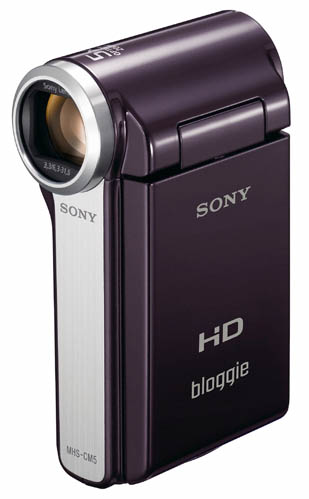 The senior Bloggie's 5x optical zoom soundly beats its sibling's digital zoom
The $149.99 MHS-PM5 - available in purple, blue, pink and white - has a top-mounted lens that rotates 270 degrees, enbling you to take pictures of the world in front of you, of the ceiling, or of your own sweet self. No optical zoom on the junior Bloggie, only an ever-useless 4x digital zoom.
The 2.4-inch display of the MHS-PM5 doesn't flip out, though it'll play movies in landscape mode when the unit is held horizontally. It also features digital image stabilization, but only when shooting in lower-resolution video modes.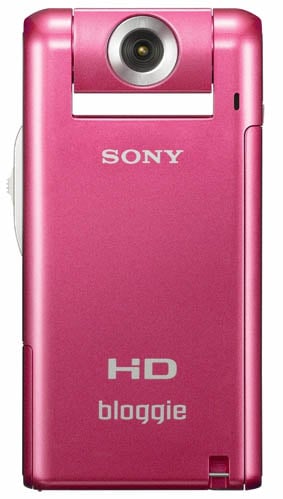 The junior Bloggie comes in any color you want, as long as it's purple, blue, pink or white
Add 20 bucks to the MHS-PM5's base price and you can get one with a 360-degree adapter that pops on top of the camera lens and allows you to shoot video of the world all around you, then unwrap that distorted video using Sony's bundled Picture Motion Browser software. (Sorry, Mac fans, it's Windows-only.)
Both cameras charge over USB and support Memory Stick PRO Duo, SD or SDHC memory cards. Both also have built-in software that allows you - PC or Mac - to upload video or stills to Shutterfly, Picasa, YouTube, Dailymotion and Photobucket. Facebook integration is planned as a free upgrade in spring.
Sony's stylista cred has taken some hits in recent years, and the company is trying to regain its mojo to that end - although naming cameras aimed at social networking hipsters as "Bloggies" may be trying too hard. But as Sony's chairman, CEO and president Sir Howard Stringer mused at the press event, referring to his company's many new consumer offerings: "Maybe you'll call us cool again. Who knows?" ®
Sponsored: Minds Mastering Machines - Call for papers now open