Sarko gets crypto mobe after BlackBerry ban
French president given 'beautiful' Thales smartphone
Nicolas Sarkozy and 20,000 of his French government lieutenants will be equipped with specially-commissioned encrypted smartphones, following fears over the security of BlackBerries.
Back in 2007, SGDN, the French equivalent of MI5, banned ministers and civil servants from using RIM's devices, citing "a problem of data security". The embargo was interpreted as a response to BlackBerry's US and UK-located email servers.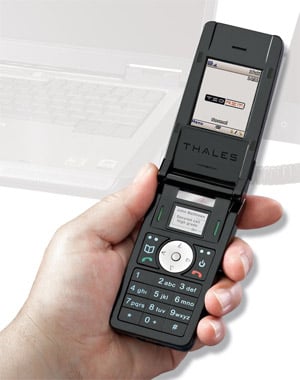 Yesterday, Sarkozy paid a visit to France-headquartered defence giant Thales, to be presented with the solution: an "impenetrable" smartphone called the Teorem.
Reports from the visit provide scant technical information, but Sarkozy said the device was "beautiful". The price of the clamshell unit, pictured, has not been disclosed.
Thales revealed work on the Teorem in 2008, when it said it would use a "brand-new government encryption component developed jointly by the [French procurement agency] and Thales" suitable for securing communications up to Top Secret level. It said the Teorem would support UMTS, EDGE, GPRS and GSM.
Sarkozy's ministers, and civilian and military officials, will each be issued with a handset, AFP reports.
French security services are by no means alone in their concern over politicos' BlackBerry addiction. Obama fought US agencies' worries to keep his mobile email gadget. The spooks eventually agreed, but only after they tightened its security. ®
Sponsored: RAID: End of an era?