Popcorn Hour C-200
DIY media centre, anyone?
There is one problem with the layouts of the USB ports though - they are too close together, especially the ones round the back. Sure you can fit two USB sticks at the same time, but only if they are thin. Plug in a more bulky unit such as the Corsair 32GB we were using and the adjacent slot is partly obscured.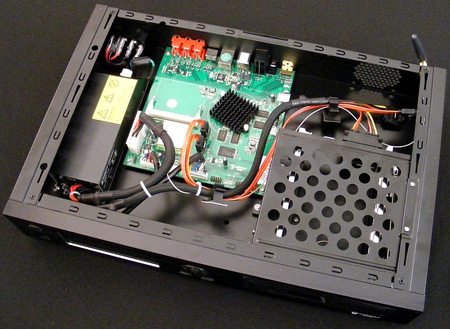 Upgrades are easily performed – the lid comes off by removing a single screw
Open up the box and you will find the connectors for two SATA devices which neatly brings us onto what separates the C-200 from the rest of the media streamer herd - its ability to accept third party Blu-ray disc players and hard drives. Fitting a standard 3.5" PC hard drive is simplicity itself - just open that door on the front of the unit and slip it into the caddy.
To install a PC Blu-ray drive you need to take the top off the box - a one screw job - and remove the caddy. If you want storage and Blu-ray then you can fit a 2.5" lap-top hard drive beneath the disc drive. You can't actually buy a C-200 with an HDD or disc drive pre-installed but the installation is very straightforward and Popcorn maintains a user-supported list of all the drives that do - or don't - work here.
During our test we didn't go as far as fitting a Blu-ray player as any conclusions we drew would have been specific to the type of drive we fitted but the 500GB Samsung SATA disc we slotted in worked a treat and showed up on our network with no problems. When fitted with a hard drive the C-200 can support FTP, SMB and NFS file sharing – plus news groups and a torrent client add-on – turning it into a handy little network drive.
If you don't want to go to the expense of fitting a hard drive you can use the internal USB port for a memory stick of 2GB capacity or more for persistent storage to take advantage of Blu-ray Live content. Just to be clear, once you have fitted your C-200 with a hard drive and disc player you still won't be able to use it to rip discs or record TV. The C-200 is a media player not recorder.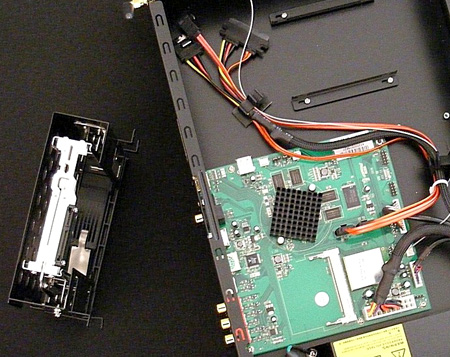 The caddy accommodates both a Blu-ray drive and a 2.5in hard disk
When it comes to streaming media, the C-200 will handle near enough any format known to man and you can find a complete list of all the compatible formats on the Popcorn web site. During two solid days of testing we didn't manage to find a single quoted format type that wasn't supported by the C-200. However, we did encounter the odd problem with some VOB and WMV files that simply would not run despite working perfectly well when played with VLC on a PC. DRM support only extends to Windows Media DRM, but that's better than nothing.
Sponsored: Minds Mastering Machines - Call for papers now open