LG preps 17mm-skinny HD netbook
And a more chunky one too
CES 2010 LG is readying a pair of juicy portables to extend its netbook and ultra-skinny notebook families, including a machine possibly based on Intel's as-yet-unlaunched next-gen Atom platform for handheld tablets.
First up, the X300, an 11.6in machine with a 1366 x 768 display. Just 17.5mm thick and 980g in weight, the X300 packs 1-2GB of DDR 2 memory and a 64GB SSD. Wi-Fi comes as standard, but some models will also have embedded 3G.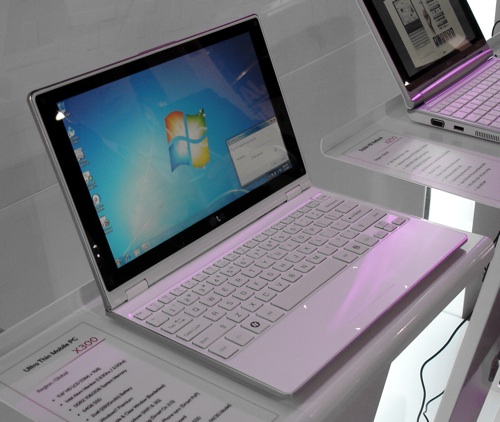 LG's X300: slimline
It's intended to run Windows 7 Premium, but it'll also come with a quick-boot sub-OS for quicker access to the internet and media.
Oddly, LG has it down as sporting an "Intel Atom Menlow" chipper at 1.83GHz or 2GHz. Given that the X300 doesn't go into mass production until later this month, why use a platform launched in 2008 and use a now long out-of-date codename?
We suspect the X300 may make it to market with 'Moorestown', the successor to Menlow.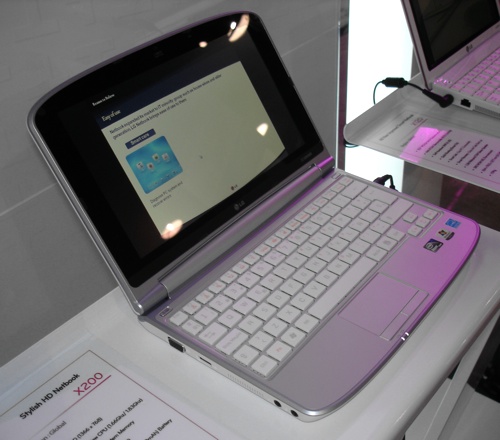 X200: more chunky but more curvy too
The X200, due in February, is a more traditional netbook - it has a 10.1in display and is based on the 1.66GHz N450 Atom chip - albeit one with a more interesting case design than many and a 1366 x 768 display.
Other specs - 1-2GB of DDR 2 memory, 250-320GB of hard drive space, Windows 7 Starter Edition - are standard for a new netbook these days. Like the X300, embedded 3G is an option, and if it's present, it can seamlessly hand over the connection to the Wi-Fi radio, a feature also found on the 3G X300.
The X200 also has the same SmartOn 2.0 quick-boot OS. ®
Sponsored: Minds Mastering Machines - Call for papers now open