Seagate boards USB 3 train
BlackArmor external drive gets new interface gear
Seagate has upped its BlackArmor external drive interface from USB 2.0 to the faster USB 3.0.
A steady USB interface changeover is underway as the 5Gbit/s SuperSpeed USB 3 interface colonises the external drive interface landscape. LaCie and and others have already announced product and both Western Digital and Seagate have revealed similar plans in time for CES in Las Vegas.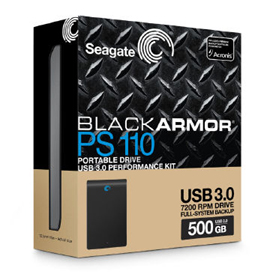 Seagate's BlackArmor PS110 is a 500GB unit with a - presumed - 2-platter, 2.5-inch Constellation hard drive spinning at 7,200rpm and a 3Gbit/s SATA interface inside it. WD's USB 3.0 My Book uses the same SATA drive interface. The PS110 comes with a USB 3.0 Performance Kit: essentially a PC Express card and cables. This bypasses the lack of an installed base of USB 3.0 desktop and notebook PCs.
Seagate says we should expect data transfer speeds up to three times faster than a USB 2.0 external drive, and says it has reached this speed in real-world testing. It quotes sustained 100MB/sec transfer speeds, which will happily shorten backup and large file transfer times. The company claims a "25GB HD movie can be transferred in 4.2 minutes versus the 13.9 minutes it would take using a traditional USB 2.0 drive."
The PS110 USB 3.0 product comes with Acronis backup software - an automated full-system backup routine - plus a bare-metal recovery facility called SafetyDrill+. The product is compatible with Windows XP, Vista and 7 and can be bought from Seagate.com in the US for a manufacturer's suggested retail price of $179.99. ®
COMMENTS
@callmeshane 1
They are only claiming 3 times the speed of USB 2. NOT the 10x USB 2 that USB 3 is capable of. So it is a VERY real life claim.
Yeah Yeah Yeah - heard it all before.
Oh the manufacturers double speak..... "Transfer speeds of a Jillion Megs a second"...
And craftily hidden in the fine print ** Escape Clause 44. "Burst transfer Speed of UP TOO"
Meaning that if you have the brandest newest HDD's, MOBO's, 200 Gig of RAM, an overclocked 50GHz CPU, perhaps - if your lucky, and the wind and gravitational pull of all the planets combined could maybe all combine to pull the electrons about a bit faster..... to perhaps 80% of those speeds... if your lucky;
Cause the fine print did say, "Up Too" - not "DOES".
Oh did I forget to mention, The burst speed actually is attainable, if you wire the mains voltage to all your components and then flick the switch.
The quantity of electrons - in a data equivalency rating - when jumped from 5 and 12V DC - to 240V AC - will actually give a BURST of data, at the rated speed - for all of 1/1000th of a second.
Standards?
I suspect USB 3.0 will not be a common standard until this mid year perhaps?